'The Dungeon Was the Last Place I Wanted to Go': An Exoneree's Story of Survival at Angola Prison
Henry James was a young father with two babies when he was wrongly convicted and sentenced to life in prison.
Special Feature 09.17.21 By Daniele Selby
As Henry James recalled, there were only three ways to get out of working the field at the Louisiana State Penitentiary — get sick, get hurt, or catch a rabbit.
In his time at Angola, as the Louisiana State Penitentiary is known, Henry caught many rabbits.
"You had to run behind it and catch it with your hands and bring it to the free man. And he would take him home and eat him," Henry said. "They would give you a half a day off if you could catch one rabbit. For two, you could get a whole day off." 
The "free men" whom Henry referred to were the staff and guards — people who were free to go home at the end of the day, unlike Henry and the other incarcerated people. 
Only once, to avoid the brutal heat, did Henry get hurt, cutting his own knee with a razor blade. For the most part, he said, he worked hard in the fields, trying to avoid trouble because he had a bigger goal: "To receive justice for the wrong that was done to me."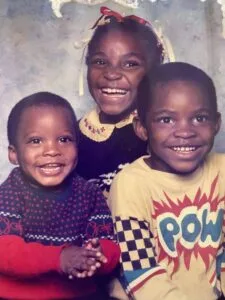 "They snatched that away"
On a fall afternoon in 1981, police arrested Henry at the welding company where he worked in New Orleans. The 20-year-old father had recently started the job and was excited to be able to support his two young kids — his daughter O'Sheena, who was 1 at the time, and his newborn son Laurendine.
"I was just trying to live a decent life like the next man and I had babies that I was just trying to work and take care of, but they snatched that away from me," said Henry.
In April 1982, Henry was wrongly convicted of rape and sentenced to life in prison without parole, even though serological testing had excluded him as the attacker — a fact that his lawyer failed to share with the jury.
He was convicted largely based on the erroneous identification of the rape survivor, a white woman who lived next door to Henry in New Orleans' Jefferson Parish. The day before the attack, Henry had spent most of afternoon helping the woman's husband repair his car. Henry and the woman had spoken later that night after Henry informed her that he'd been in a car accident with her husband that had resulted in her spouse's arrest. The following morning, she was raped at knifepoint by someone who entered her home.
The woman did not describe her attacker as someone she knew, nor did she tell police that he was the same person who had spent the previous day with her husband. Yet, after reviewing dozens of photos of Black men in a book, she identified Henry as her attacker.
Mistaken eyewitness identifications are a leading cause of wrongful conviction and have contributed to approximately 28% of wrongful convictions resulting in an exoneration. Moreover, research shows that eyewitness identifications tend to be less reliable when the person making the identification is of a different race than the person they are identifying, as was the case for Henry.
"I was mad and angry, not with the people around me, but at the system for what it had done to me," said Henry. "Ask anybody at Angola about the 'cat in the hat' and they'll tell you he just wants to clear his name and go home," Henry said, using the nickname given to him by the men at Angola because he always wore a hat in the fields.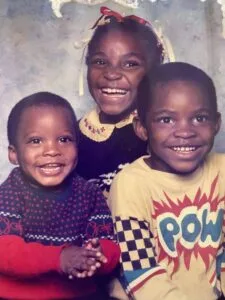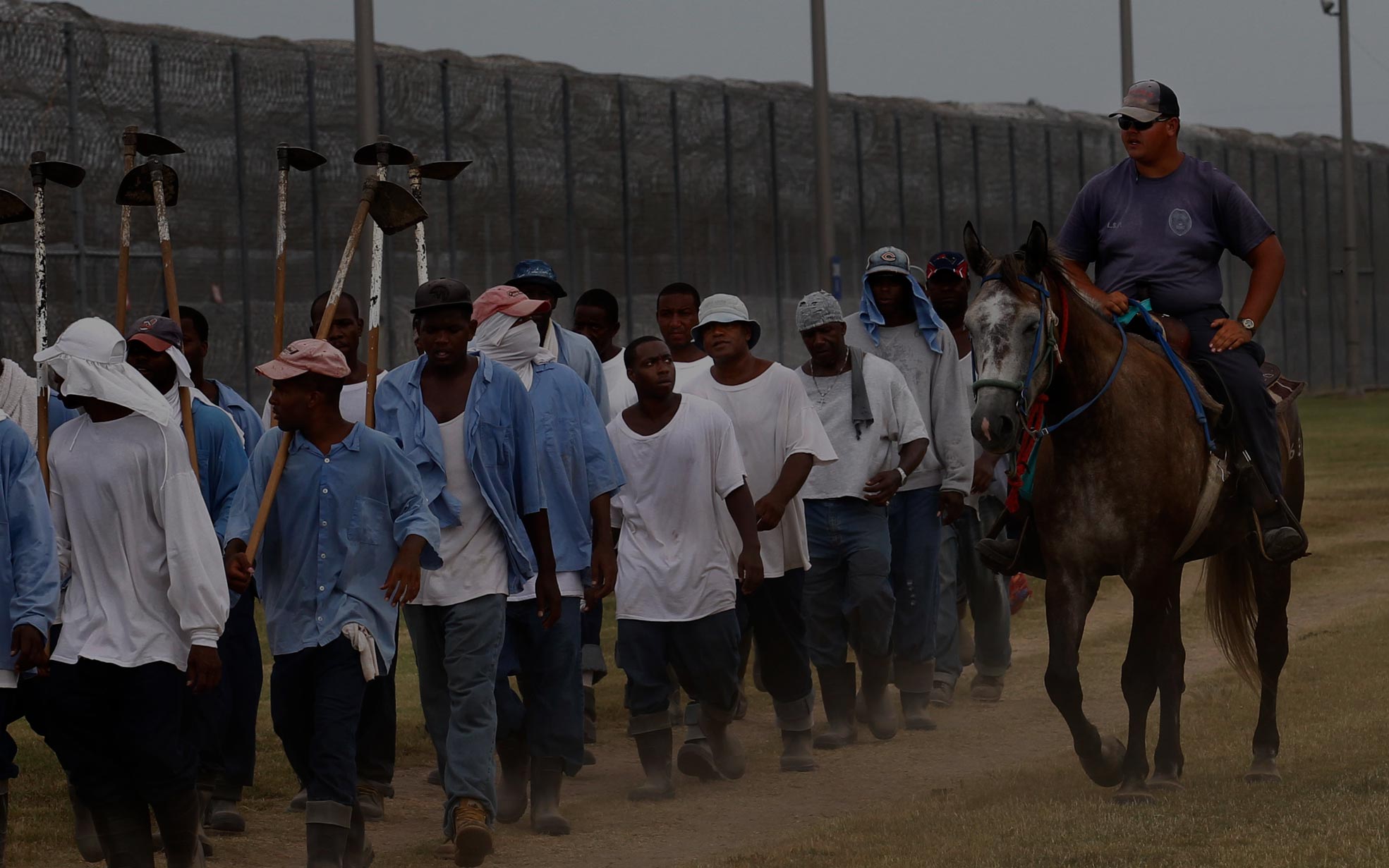 "I was mad and angry, not with the people around me, but at the system for what it had done to me."
"I was mad and angry, not with the people around me, but at the system for what it had done to me."
Picking cotton
Henry needed time and help. He couldn't read or write well, and relied on a dictionary to look up words to write letters to lawyers and innocence organizations.
But, in his first couple of years at Angola, Henry didn't get a lot of free time.
He worked hard in the fields to avoid being written up for a "work offense" yet frequently found himself being sent to "the dungeon" — otherwise known as solitary confinement. One guard in particular would see to it that Henry was sent to the "dungeon" as often as twice a week, citing ambiguous issues with his work.
"The dungeon was the last place I wanted to go because they wouldn't even give you a pen and paper, never mind a law book. So, that was a setback in my plans to go home," Henry said. Locked in solitary, he couldn't make use of the prison's law library or get help.
Time in the "dungeon" also meant more time working the fields. Almost all incarcerated people who arrive at Angola spend their first 90 days working in the fields. After 90 days without any "incidents," people can apply to change jobs. But every time Henry was sent to the "dungeon" or written up on a "work offense," the clock started over.
"The dungeon
was the last place
I wanted to go..."
In total, Henry spent almost three years working in the fields — picking cotton, peas, okra, tomatoes, squashes, and turnips, cutting ditches, scraping grass off the levees on the same spot where just 100 years before slaves had done the same. He was paid 2 to 4 cents an hour.
"I would say I'm a professional cotton picker, I've picked so much. I would be picking sometimes and my hands would be so cold I could barely move 'em, my fingers would be numb," he remembered. "But I had to do it to earn the 'privilege' to do what I needed to help myself get out — that's why I went through all that I went through and took all that I took."
Henry and others also endured humiliation and poor treatment in the fields, where they were often deprived of water.
"When you would finally get to the water bucket — which was at the other end of the field — they would move it farther away. And if you stopped working to walk closer, you'd be written up for a work offense," Henry recalled. "At the end of the day, they'd dump out the water bucket as you were getting there, and, if you say something, you get punished."
The men would then have to walk back to the dorms, typically more than a 30-minute walk, Henry said.
When Henry was finally approved for a job change and reassigned to work in the kitchen, he buckled down on his goal of clearing his name. He taught himself to read and write, using a dictionary, and even helped a few others learn. He spent time in the law library, where he met Calvin Duncan, another wrongly incarcerated person who worked as the prison's "inmate counsel" (also called a jailhouse lawyer).
Henry wrote letter after letter.
"But all those people I was writing to, sending documents to, trying to show them a picture of what had happened … and they just weren't seeing it. They still wouldn't believe me," Henry said.
But his family never gave up on him.
"We understood that what he was going through was not in his control. My mother really helped us understand that he had been taken away from us and from her, and so we kept believing and praying that, one day, someone would get to the bottom of it and he would walk free," said his daughter O'Sheena. Her mother, Henry's girlfriend at the time of his arrest, was the biggest believer in his innocence, she said, and ensured that her children were able to build a relationship with their father, despite his wrongful incarceration.
"Going to the prison and getting to see him was great, but then having to walk away without him was heart-wrenching, and the same with his not being there when special occasions came about, because he should have been there," she added.
In 2005, Henry reached out to the Innocence Project, which sought DNA testing of the evidence in his case. The evidence, however, could not be found.
Yet, Henry didn't lose hope. He devoted his free time to working on his case and spent the rest of it in the hobby shop learning how to build and carve wood. At first, the hobby shop was just a place for him to get away from the dorms, but he quickly became a masterful and passionate woodworker. It was in the hobby shop that he met Malcolm Alexander, another Innocence Project client, and the two became friends, supporting each other as they pursued justice in their cases.
"I got so good at building and hand carving even with wood from the garbage that people would pay me to build," Henry said. The money he earned allowed him to help support his children and their mother.
"You know, my children, they were just babies, when it all happened, and my girlfriend … they didn't get a dime for it, so, in that sense, I'm still getting shortchanged," Henry, now 59, said. "But I'm free now, so I'm grateful for that."
"Who knows where I could have been"
In 2010, the Innocence Project filed a motion, along with the Innocence Project New Orleans  and Willkie Farr & Gallagher LLP, to compel a search for evidence in Henry's case. A crime lab official named Milton Dureau searched all the slides in the lab's possession by hand but, again, could not find the evidence in Henry's case.
A few months later, while looking for unrelated evidence in another case, Milton stumbled upon the missing rape kit slides from Henry's case. The following year, DNA testing of the evidence excluded Henry as the person who had committed the rape, and, on Oct. 21, 2011, Henry was freed.
"That was a very, very beautiful day," Henry said.
He had, by then, spent three decades wrongly incarcerated and had missed out on seeing his children grow up.
"I was 1 when he went in and 31 when he came out," said O'Sheena. "It was lonely at times not having a father, not having someone to talk to and go to things like father-daughter dances when most girls around you got to do that."
O'Sheena said that being reunited with her father was "amazing … like a higher being answered so many prayers" and that she has loved being able to do the little, everyday things they were robbed of the chance to do together. "Fixing breakfast for him is my number one thing that I've loved to be able to do," she said.
But it's not just time and milestones with his family that Henry missed out on during his 30 years of wrongful conviction. He also lost out on decades of income.
"Who knows where I could have been right now, if this hadn't happened," Henry said.
A long-awaited dream
Though he received some compensation from the state — about $11,300 for each year he was wrongly convicted (a sum below the federal poverty line) — his decades of wrongful imprisonment continue to hinder his dreams of being a self-employed woodworker.
"I love making China chests, tables, and I love carving and using different woods to create things with different colors naturally," Henry said.
Since being freed, Henry has worked a range of jobs. But because he doesn't have a long or consistent work history to show landlords, he has struggled to find secure, long-term housing. He and his dog Coco were recently displaced from their home ahead of Hurricane Ida, forcing Henry to set his tools and passion for woodworking aside.
"Who knows where I could have been right now, if this hadn't happened."
In the meantime, Henry said he's happy to be able to support himself working a job where he's treated with dignity and to not be working in conditions akin to modern-day slavery. But he is working hard toward his goal of moving into a home with enough space to set up a shed where he can resume his woodworking and open his own business.
Leave a Reply
Thank you for visiting us. You can learn more about how we consider cases here. Please avoid sharing any personal information in the comments below and join us in making this a hate-speech free and safe space for everyone.