How a Wrongly Incarcerated Person Became the 'Most Brilliant Legal Mind' in 'America's Bloodiest Prison'
Calvin Duncan spent 28.5 years at Angola, a slave-plantation-turned-prison, for a crime he didn't commit. Now, he's becoming a lawyer.
Special Feature 09.17.21 By Daniele Selby
Updated on Feb. 6, 2022: Calvin Duncan was finally exonerated on Aug. 3, 2021.
---
"We grew up singing this song — it was a nursery rhyme and each verse was about the crime that we was going to commit that would send us to Angola. And the crime had to rhyme with your age," Calvin Duncan recalled.
"It went like this: 'Angola, when I was 1, 1, 1, 1, they booked me for shooting that gun, gun, gun, gun, way down yonder on that farm picking that cotton all day long,'" he sang. "And then someone else would go: 'Angola, when I was 2, 2, 2, 2, they booked me for sniffing that glue, glue, glue, glue … when I was 3, they booked me for shooting that tree …' and we would sing these nursery rhymes not having a clue that there was a system that was going to make the song a reality."
But the crime that ultimately sent Calvin to Angola prison (officially known as the Louisiana State Penitentiary) was one he could never have imagined as a child singing that haunted nursery rhyme — a murder he did not commit.
When Calvin got to Angola, he was sent "way down yonder" to clear the bare cotton stalks left behind after the harvest, for which he was paid just a few cents an hour.
Working the farm at Angola is the first job all men arriving at the prison are given. The prison complex occupies 18,000 acres of farmland, dotted with facilities that house some prison staff and their families and "camps" where those incarcerated live.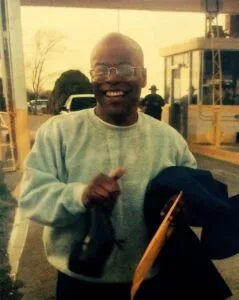 From "hell" to "America's bloodiest prison"
At age 20, Calvin was wrongly arrested for a 1981 murder based on a mistaken cross-racial eyewitness identification and sent to the Orleans Parish Jail. For 4.5 years, he studied the law and fought to prove his innocence from jail, but, in 1985, he was wrongly convicted.
The jail, considered one of the country's most dangerous, was "hell," Calvin said. So, by contrast, Angola almost seemed like a "paradise" when he was transferred there after being convicted, despite its reputation as "America's bloodiest prison," he said.
Yet, when Calvin first arrived, he was taken aback by the sight around him in the field — endless prisoners, mostly Black men, forced to work the same land slaves had worked 120 years before, while white men with guns looked on from atop horses.
"Doesn't that sound like slavery to you?" he asked. "When people say this is modern day slavery — this ain't no modern day slavery. This shit is slavery. It's no different. It's identical." 
To Calvin, the parallels between being processed through the criminal legal systems and being sold into slavery could not be clearer.
"They take us from our land, our country, which, in this case, is New Orleans, and they put us on a boat — only now, that boat is a bus, and they ship us to jail, until we go to the auction block," he described. The "auction block," as he sees it, is the criminal district court, where he was sentenced to life in prison for the murder he didn't commit, sealing his fate at the former slave plantation upon which Angola prison sits.
"Doesn't that sound like slavery to you?" Instead of being sent to the master of a plantation, people sentenced to 20 years or less are sent to the "master" at Dixon Correctional Institute, Calvin said. And those sentenced to life, like himself, are sent to the "master" at Angola, where the average sentence served is 90 years.
The morning after his arrival at Angola, Calvin was sent for a medical evaluation.
"Just like if you'd come from a slave auction, they bring you to the doctor so the doctor can examine you to determine if you fit to go work in the fields."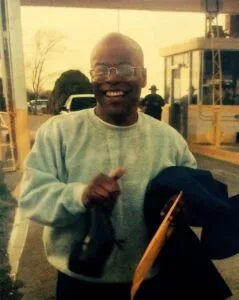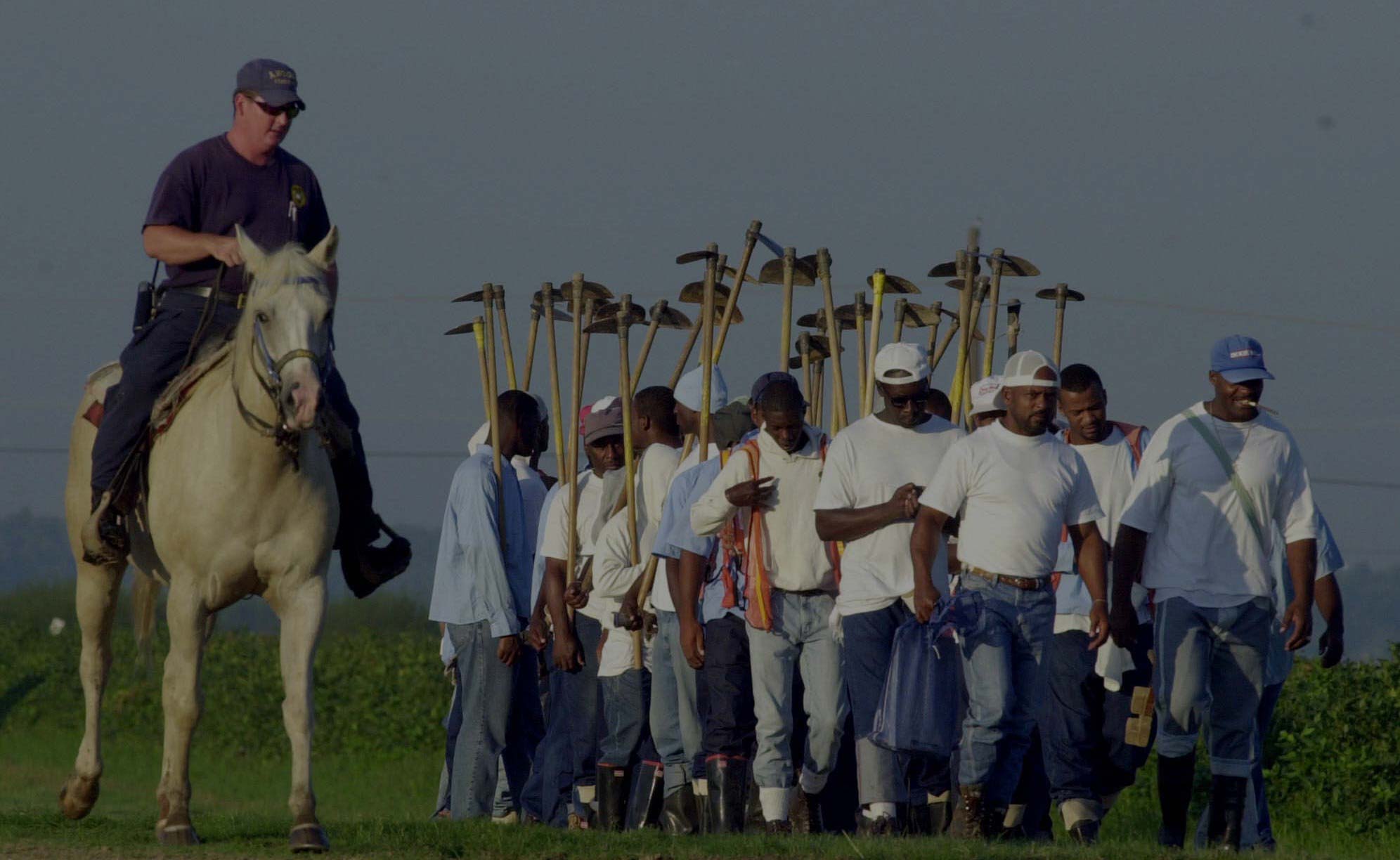 "When people say this is modern day slavery — this ain't no modern day slavery. This shit is slavery. It's no different. It's identical."
"When people say this is modern day slavery — this ain't no modern day slavery. This shit is slavery. It's no different. It's identical."
"The most brilliant legal mind in Angola"
Calvin considers himself lucky in many ways, despite the misfortune and injustice of his wrongful conviction. He never personally experienced much violence, although it was all around him, and, after just one year working in the fields, he earned his GED. His degree and the time he spent studying the law to further his own case enabled him to get "one of the good jobs," working as "inmate counsel" at the prison — often called a jailhouse lawyer.
Calvin provided legal advice and acted as counsel to others incarcerated alongside him — all for just 20 cents an hour. For 23 years, he helped people with their appeals and represented people who were mistreated by guards (many of whom lived with mental illnesses or intellectual disabilities). And, in the process, he met countless others who, like himself, should not have been there in the first place, including Innocence Project clients Malcolm Alexander and Henry James.
"I saw a lot of wrongful convictions as in-house counsel, especially from New Orleans parish — where I came from — where they had withheld information and convicted many innocent people," Calvin said. "It was hard to help them because we often couldn't get access to those records."
But he persisted. Calvin became a crucial resource for people incarcerated at Angola as well as lawyers on the outside who sought his advice when representing incarcerated people challenging their convictions. Journalist Wilbert Rideau, who was freed in 2005 with Calvin's help, called him "the most brilliant legal mind in Angola."
As a jailhouse lawyer, he saw myriad cases decided by non-unanimous jury verdicts in which he believed "there was a great possibility that someone was innocent," he told the New York Times in January 2020. After researching the history of non-unanimous juries and learning their passage into law was rooted in a history of white supremacy and racial injustice, he became a relentless advocate for change. While still incarcerated, Calvin began working to get the Supreme Court to review their use — a fight he continued after being freed.
"Maybe not physically,
but mentally,
I'm still in that same situation..."
Calvin's work inside the prison also inspired the creation of the Innocence Project New Orleans (IPNO) and he assisted its founder, Emily Bolton, as she established the organization in 2001. IPNO, a member of the Innocence Network, has helped free or exonerate 40 people in Mississippi and Louisiana since 2001. On Jan. 7, 2011, when Calvin was finally freed from Angola, he became one of those people.
"As I got to the front gate, my head started pounding. It was a headache like I'd never felt before, and I always joke that it was a brain cell that had been dormant for all those years that was just firing up," Calvin said, who served a total of 28.5 years in prison.
Despite maintaining his innocence, Calvin accepted a guilty plea to lesser charges in exchange for a sentence of time served, which allowed him to be freed in 2011, rather than serving out his life sentence. Although he's been free now for a decade, the fear of being wrongly re-incarcerated himself and the feeling of being restricted sometimes still linger.
"Maybe not physically, but mentally, I'm still in that same situation [of not being free] … Like when you're on parole and on probation, it's the same as it is in prison," Calvin said.
Being paroled or released on probation means getting a "pass" to leave prison, but people on parole and probation are still under the oversight of the criminal legal system and their movements and freedoms are still restricted.
"In that way, it ain't modern day slavery, it is still slavery days," Calvin said. "You know, the 13th Amendment didn't end slavery for people like me. I didn't get the benefits of the 13th Amendment, and I still don't feel like I get the benefits of it."
So much had been taken, that when freedom was finally in his grasp, he said he felt lost at first.
"I had no clue about things that are associated with freedom … like finding a place to live, getting my own food and clothes because those things are given to you in prison," he recalled. "So, in my newly found freedom, I was faced with the same things that the people who were let out of slavery were faced with: Where the hell am I going to go? Where am I going to go to work?"
A protector of people
Calvin said he was fortunate to have the support of his community. He was able to secure full-time work while earning his bachelor's degree from Tulane University, which he was given permission to visit while incarcerated to pick up legal books. The visit was his first to the school, and it was in Tulane's law library that Calvin decided he wanted to become a student there, he told the New York Times. Within days of being freed, he returned to the campus, still determined to earn his degree there, and eventually did so in 2018.
All the while, he kept pushing the Supreme Court to review the use of non-unanimous juries, and in 2020, after nearly two dozen failed attempts, the court finally took up the issue and ruled them unconstitutional in April 2020.
Calvin began law school just a few months later and is currently working toward his degree. He's pursuing his dreams and said he's now building the life he might have lived had he never been caught up in this nearly three-decade-long nightmare. Astoundingly, he does not harbor any ill will or anger toward the system — he just wants to change it.
"We need to stop
using people
as a means of survival
for other people..."
His goal is to ensure that people get to enjoy all the constitutional rights that are supposed to be afforded to them.
"We need to stop using people as a means of survival for other people," Calvin said, stressing the importance of stopping the practice of over-incarcerating people to fill prisons and create jobs. "If we can figure out how to go to the moon, we can figure out a better system — a system in which we don't have to crush another group of people to survive. That's my dream."
As a lawyer, he said he hopes to be a protector of people who might otherwise be taken advantage of, including those who experience violations of their right to housing. His ultimate dream is to bring together a group of lawyers to be "guardians" of people's rights.
"I want to be the kind of lawyer that stands up for people and who says, 'If you want to mess over this person, you gotta come through me,'" he said.
Leave a Reply
Thank you for visiting us. You can learn more about how we consider cases here. Please avoid sharing any personal information in the comments below and join us in making this a hate-speech free and safe space for everyone.