Innocence Project Launches Refreshed and Revitalized Website to Advance a Movement for Justice
For 30 years, our team has done work to create a more fair, just, and compassionate legal system for everyone in this country.
05.10.23 By Fiona Guthrie
We are live! The Innocence Project launched its refreshed and redesigned website today and we are thrilled you're visiting.
For more than three decades, our staff, partners, and clients have been doing extraordinary work to create a more fair, just, and compassionate legal system for everyone in this country. And in the digital age, we have told the powerful story of that work across our digital platforms, anchored by our bold and beautiful website.
Every year, more than 4 million people visit our site to learn more about our work, sign petitions, make donations, request representation, and engage with our community. It's where you have come to express your outrage about injustices — as so many of you did after the executions of Brendan Bernard and Leonard "Raheem" Taylor — and made generous donations to further the fight for justice for all.
Over the years, we have shared the inspiring and deeply moving stories of our clients and their families, including Termaine Hicks, Rosa Jimenez, Herman Williams, Michelle Murphy, and countless others. 
We helped explain why bail reform and discovery are so important to creating fair and equitable systems of justice; why bite marks aren't credible science; how police misconduct leads to wrongful convictions; and how racism continues to pervade every level of the criminal legal system, including in the implementation of the death penalty.
And we've asked you to take action — to sign petitions, call legislators, donate to campaigns, and join protests to save the lives of people facing execution, like Rodney Reed and Melissa Lucio. 
This past year, we launched a new blueprint for our future, and, as part of that, we've been working to refresh and revitalize our website so that everything — our work, the issues that drive wrongful convictions, our completed cases, our clients' stories, and our campaigns — is easy to find and engage with. We've organized our content around the three foundational pillars of our work: Restoring Freedom, Transforming Systems, and Advancing the Movement. And we've added more information about our governance and workplace culture so you can better know and understand the values that drive us and inform our work everyday. And maybe you'll come join us!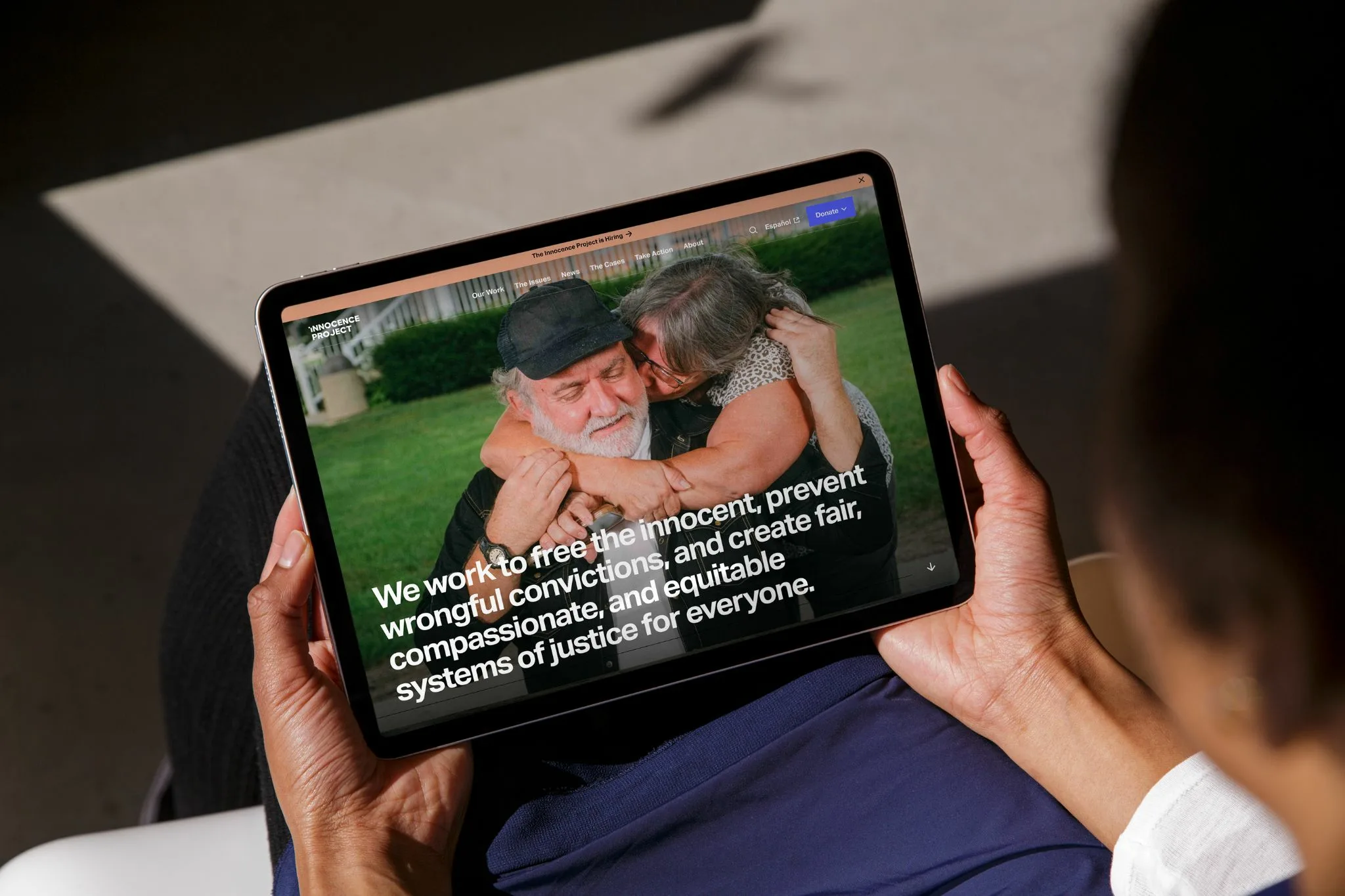 We've also added new sections that explain the explicit links between race and wrongful conviction and the very real risks of executing innocent people in our imperfect system. We've also given the website a clean and modern look, with bold typography and vibrant photography that help tell our stories more effectively.
And, because we know that so many of you visit us on mobile devices, we've made sure that the site is super responsive and easy to navigate on phones and tablets.

We couldn't have carried out this refresh without our amazing team and partners, in particular, information architects The Understanding Group (TUG) and our design team Madeo.

We hope you'll take a moment to explore all this website has to offer and, most importantly, tell us how we can make it even better today, tomorrow and in the years to come.
Thank you for visiting us. You can learn more about how we consider cases here. Please avoid sharing any personal information in the comments below and join us in making this a hate-speech free and safe space for everyone.