Tell Lawmakers to Fix Florida's Compensation Law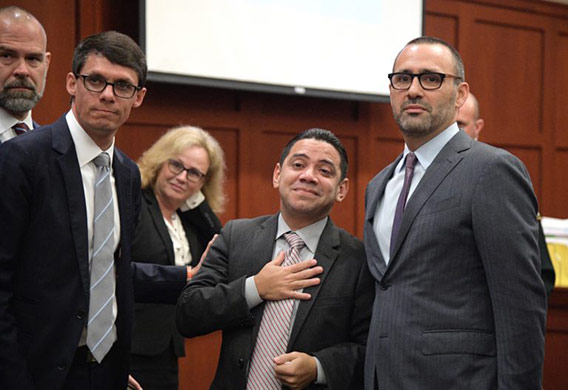 Urge Senator Danny Burgess to schedule a hearing on SB 526.
Florida's wrongful conviction compensation law is leaving out many of the people that it should be benefitting. Fifteen exonerees, who spent a combined 236 years incarcerated for crimes they didn't commit, are barred from receiving compensation for their wrongful imprisonment because of unique issues in the state's law. This doesn't have to be the case, and only two changes need to be made to allow them to obtain the compensation they rightfully deserve:
Allow people with prior convictions to receive compensation.
Extend the tight 90-day application deadline from the day an exoneree's conviction was overturned.
Decades of wrongful conviction yet no compensation
Clemente Aguirre-Jarquin was exonerated in 2018 after spending fourteen years in prison, including a decade on death row, for a murder he didn't commit. He is one of six exonerees barred from compensation due to a narrow filing deadline that doesn't fit the reality of exonerations. When the court threw out his conviction, Clemente only had 90 days to seek compensation, but like most exonerees, he had to first wait to see if the prosecutor would request a retrial before he could show he was fully exonerated and eligible for compensation. When the prosecutor finally announced Clemente wouldn't be retried, it was too late for him to file for compensation.
Robert DuBoise was exonerated in 2020 after spending 37 years in prison, including three on death row, for a murder he didn't commit. He is one of nine exonerees who are barred from receiving compensation because Florida is the only state in the country to prevent exonerees with prior convictions from being compensated. Robert's claim to compensation should have been clear. But solely because he received probation when he was 17 for two minor offenses, the law says he isn't owed any compensation for the 37 years unjustly taken from him.
Now, Florida lawmakers have the opportunity to solve these issues with the state's wrongful conviction compensation law. Rep. Traci Koster (R-Hillsborough & Pinellas) and Senator Keith Perry (R-Alachua, Marion, Putnam) have introduced House Bill 241 and Senate Bill 526 to fix the law for Clemente, Robert, and all other exonerees in Florida.
Use the form above to contact Senator Burgess and tell him to schedule a hearing and vote on SB 526.
Text FLORIDA to 97016 to get updates on this campaign.
News coverage: 
Florida legislation would remove legal roadblock to compensation for wrongfully convicted
 NFL 360: Conviction – The Robert DuBoise Story
"Exonerees need to be fairly compensated" by Seth Miller, ED of the Innocence Project of Florida
"I was wrongfully convicted, but the state won't pay me what I'm owed" by FL Exoneree, Clemente Aguirre-Jarquin
"Wrongful conviction compensation law needs fixing" by FL Exoneree ,Nathan Myers
---