Why Latinx People Are Uniquely Vulnerable to Wrongful Conviction
Special Feature 10.07.22 By Daniele Selby
Updated on Sept. 15, 2022: This article has been updated to reflect the most recent statistics of Latinx exonerees since 1989.
---
In the summer of 2004, Clemente Aguirre enjoyed a day off work from the restaurant where he washed dishes and prepped food in Florida. He spent the afternoon and evening of June 16 drinking with friends and relaxing. He didn't know that would be the last relaxing day he would have for many years to come.
In the early morning of June 17, Mr. Aguirre stopped by his neighbor's house on his way home. It was then that he discovered his neighbors, 47-year-old Cheryl Williams and 68-year-old Carol Bareis, had been attacked. Mr. Aguirre tried to revive Ms. Williams, but it was too late. She was already dead. In the next room, he found Ms. Bareis' lifeless body.
Mr. Aguirre had arrived in the United States just over a year earlier, after fleeing violence in Honduras, where he feared retaliation for refusing to become a member of a drug-trafficking gang. Because of his immigration status, Mr. Aguirre feared he would be deported if he contacted the police about what he'd seen. So he did not report the crime.
A few hours later, Mark Van Sandt, Ms. Williams' daughter's boyfriend arrived at the home to pick up some of his girlfriend's belongings. Instead, he found the women dead and immediately called the police. About a week later, Mr. Aguirre was charged with their murders. He was ultimately convicted and sentenced to death. He spent 14 years in prison — including a decade on death row — before he was exonerated by DNA and other newly discovered evidence in 2018.
Mr. Aguirre is one of 395 Latinx people who have been wrongfully convicted and exonerated since 1989, according to the National Registry of Exonerations. Though Mr. Aguirre has been free for nearly two years now, he has received no compensation for his wrongful conviction and years on death row because of Florida's compensation law. Just four exonerees have been compensated since the law passed in Florida in 2008, though more than 30 people have been exonerated. The Innocence Project is currently advocating to fix Florida's law to ensure that exonerees like Mr. Aguirre receive fair compensation.
Immigration status can play a role in wrongful convictions
Innocent Latinx people like Mr. Aguirre are uniquely vulnerable to wrongful conviction because of concerns over immigration status, according to a recent study published in the UCLA Law Review. Innocent Latinx immigrants are more vulnerable to pleading guilty to crimes they didn't commit under threat of deportation and law enforcement officers have used witnesses' immigration statuses to manipulate their testimony.
Even after innocence is established and a conviction is overturned, Latinx immigrant exonerees can still face deportation or other immigration issues. This means that despite being cleared of all charges and having years of freedom stolen by wrongful imprisonment, some Latinx immigrant exonerees must continue fighting the legal system.
Most Latinx people in the U.S. are U.S. citizens, but in some cases, they face similar challenges to wrongfully convicted Latinx immigrants. In several cases, U.S. citizens have been wrongfully convicted of entering the country illegally or committing another immigration violation, and were exonerated only after proving that they had been citizens all along.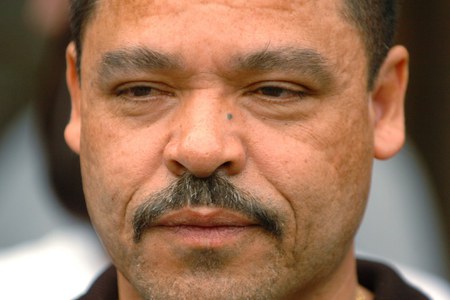 Language can be a barrier to justice
Latinx exonerees, both immigrants and citizens, may be more vulnerable to wrongful convictions due to language barriers. Though not all Latinx people face language barriers and not all people who face language barriers are Latinx, nearly 30% of the U.S. Hispanic population does not consider itself proficient in English, according to a Pew Research poll.
While courts provide interpreters at trial, there is no constitutional right to an interpreter during an interrogation by law enforcement. Often, if one is provided during an interrogation, the translator is typically an officer who happens to speak the language, rather than a trained interpreter and translator.As a result, Latinx people can be more vulnerable to false confessions. About 40% of Latinx exonerees who falsely confessed to crimes said that they "did not fully understand spoken English," according to the study published in the UCLA Law Review.
When Miguel Roman was arrested for a 1988 murder in Connecticut, officers read him his Miranda rights in Spanish. But the subsequent interrogation was largely conducted in English, even though Mr. Roman was not fluent in English. Mr. Roman gave conflicting accounts of the last time he saw the victim, and at trial, his statements were used to convict him. He spent 20 years in prison until DNA testing excluded him as the perpetrator, and pointed to another person. Mr. Roman was freed in 2008 and exonerated the following year.
Language barriers not only pose a challenge to the wrongfully accused, they also constitute a hurdle for the wrongfully convicted when it comes to seeking justice and surviving wrongful imprisonment.
Mr. Aguirre said he faced additional violence and brutality while in prison because of his lack of English fluency.
"They emasculate you, they degrade you, and they punish you because they think you're acting that you don't speak English," Mr. Aguirre told the Orlando Sentinel in 2018. He added that although prison staff thought he was pretending not to speak English, he really didn't understand their instructions.
While incarcerated, Mr. Aguirre learned English, relying on a Spanish-English dictionary, so he could read his trial transcript and understand case law in the hopes of proving his innocence and regaining his freedom — and ultimately, he succeeded.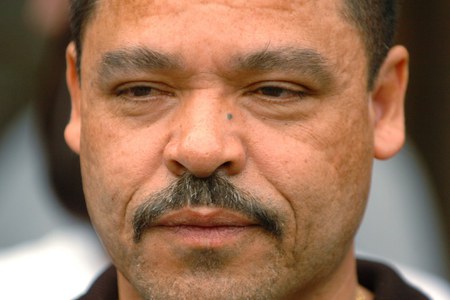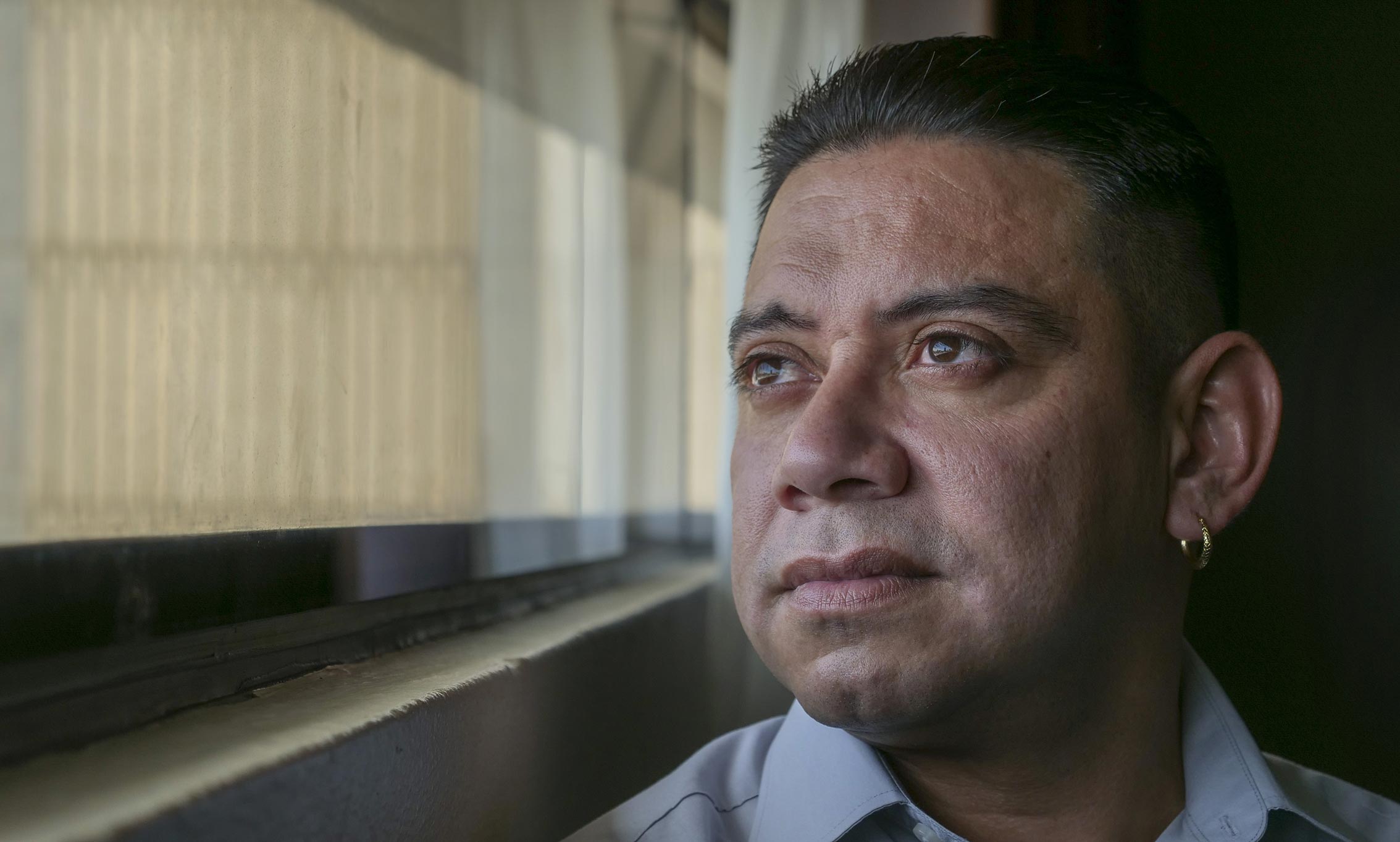 "They emasculate you, they degrade you, and they punish you because they think you're acting that you don't speak English."
"They emasculate you, they degrade you, and they punish you because they think you're acting that you don't speak English."
Racial bias, poverty, and wrongful conviction
When it comes to wrongful conviction, poor people and people of color are especially vulnerable at every point in the legal process. 
Nearly 1 in 5 Hispanic people in the U.S. lives in poverty, a rate 6% higher than the national average. And while most people in prison are poor, women and people of color are among the poorest, with incarcerated Hispanic women seeing the lowest median annual income prior to being incarcerated.
People living in poverty who are wrongly accused of crimes are less likely to be able to afford the help they need and less likely to have the resources needed to adequately investigate their cases, according to the Equal Justice Initiative. Language barriers can also make it more difficult to obtain necessary assistance. Innocent people who cannot afford or access the legal assistance they need may be wrongly convicted and face harsher sentences — including the death penalty, which has been disproportionately applied to people of color.
Racial bias also taints suspect development. 
"I really feel that race and my ethnicity was a factor in my wrongful conviction," exoneree Fernando Bermudez told the Innocence Project. Mr. Bermudez was wrongfully convicted of a 1991 murder in New York City and spent 18 years in prison before his 2009 exoneration. He is believed to be the first Latin American man in New York State exonerated on "actual innocence" grounds.
"The detective saw me as someone who was disposable. They saw a young Latino male and thought I was 'just another criminal,'" Mr. Bermudez said. Based on his ethnicity and the mostly Latinx neighborhood of Washington Heights where he grew up, officers assumed that Mr. Bermudez was not well educated. In fact, he was headed to college.
The officers didn't pursue other suspects and ignored other leads, Mr. Bermudez said. And when interrogating his friend, an alibi witness, the detective asked him why, as an Italian American, he was friends with a Latino man and referred to Mr. Bermudez using a racial slur. In a recorded conversation with Mr. Bermudez's private investigator in 1992, the same detective said that if Mr. Bermudez hadn't been convicted of this crime, he would "be in jail anyway" for some other crime.
Studies have shown that policies and tools currently used to develop suspects often rely on databases, like gang databases, and technologies built on algorithms, such as predictive policing, that have disproportionate racial impact. The use of and reliance on such tools for the development of suspects can become the first step on the path to wrongful conviction. 
Many of the same issues that impact Black people and other people of color when it comes to wrongful conviction and mass incarceration also affect Latinx communities. For example, both Black and Latinx people are overrepresented in prisons. Black people comprise just 13% of the general U.S. population, but 40% of its incarcerated population, while Latinx people make up 16% of the general population, but 19% of the incarcerated population, according to the Prison Policy Initiative.
30%
of the U.S.' Hispanic population does not consider itself proficient in English. (Pew Research Center)
40%
of Latinx exonerees who falsely confessed to crimes said that they "did not fully understand spoken English". (UCLA Law Review)
1 in 5
Hispanic people in the U.S. lives in poverty, a rate 6% higher than the national average. (United States Census Bureau)
19%
of incarcerated people are Latinx, but just 16% of the general U.S. population if Latinx. (Prison Policy Initiative)
Because law enforcement may designate a Latinx person as Black or white based on visual cues in the arrest records and court reports on which studies rely, the full extent to which wrongful conviction affects Latinx people in the U.S. may be underestimated.
But for those who have lived through wrongful conviction, the impact is clear.
"Wrongful convictions destroy families," Mr. Aguirre told the Innocence Project. Among immigrant Latinx communities, the toll of wrongful conviction can be far reaching, he said, explaining that often families abroad hear the news of their relative's incarceration, but don't know that they have been wrongfully convicted and aren't aware of the injustices that exist in the criminal legal system.
"There needs to be more awareness for families of wrongly convicted people and beyond that the system needs to change," Mr. Aguirre said.
Leave a Reply
Thank you for visiting us. You can learn more about how we consider cases here. Please avoid sharing any personal information in the comments below and join us in making this a hate-speech free and safe space for everyone.