Who Is Marcellus Williams: Man Facing Execution in Missouri Despite DNA Evidence Supporting Innocence
DNA evidence not available at the time of Mr. Williams' trial proves his innocence, but has not been considered in court.
Death Penalty 08.15.23 By Alicia Maule
DNA evidence not available at the time of Mr. Williams' trial proves his innocence, but has not been considered in court.
Death Penalty 08.15.23 By Alicia Maule
On June 29, Missouri Gov. Mike Parson lifted the stay of 53-year-old Marcellus Williams' execution. Mr. Williams has spent 24 years of his life on death row for a murder DNA evidence proves someone else committed. Gov. Parson terminated a board consisting of five former judges appointed to examine the case of Mr. Williams, lifting the stay instituted by then Gov. Eric Greitens minutes before Mr. Williams' scheduled execution in 2017.
In 1998, Felicia Gayle, a former St. Louis Post-Dispatch reporter in St. Louis, was stabbed to death 43 times in her own home. 
Two years later, Mr. Williams was convicted of the first-degree murder, robbery, and burglary of Ms. Gayle. His conviction primarily relied upon the inconsistent testimonies of two incentivized witnesses, with no concrete physical evidence linking him to the crime scene. Specifically, one of the witnesses, Henry Cole, told police on June 4, 1999, 10 months after the murder, that Mr. Williams had admitted to the crime while they were both in prison.
In 2016, testing of DNA samples retrieved from the crime scene entirely excluded Mr. Williams as a contributor, contradicting the testimony-based evidence used to convict him. 
Though no new execution date has been set, one could be scheduled at any time, and Mr. Williams' life remains at risk for a crime he did not commit. 
Here's what you need to know about his case:
1. Mr. Williams has been excluded as the source of the DNA found on the murder weapon.
On Aug. 11, 1998, Dr. Daniel Picus came home from work around 8 p.m. to find his wife, Ms. Gayle, dead at the bottom of the stairs. She had been stabbed 16 times, and one of their kitchen knives was protruding from her neck.
In 2016, post-conviction DNA testing conducted on the handle of that knife detected the presence of male DNA and excluded Mr. Williams as the source.
2. No court has reviewed the exculpatory DNA evidence.
In 2017, then Missouri Gov. Eric Greitens stayed Mr. Williams' execution based on the DNA results from the knife handle. However, no court has been willing to hear this evidence, which has been reviewed and analyzed by three renowned DNA experts who have all concluded that Mr. Williams is not the source of the DNA on the knife handle.
3. The prosecution's case against Mr. Williams was based entirely on the unreliable testimony of two incentivized witnesses.
The case against Mr. Williams relied heavily on testimony from two people: Mr. Cole, a prison informant, and Mr. Williams' ex-girlfriend, Laura Asaro. However, the credibility of both these testimonies has significant grounds for skepticism.
Mr. Cole, known for his dishonesty by his family members, had a potential motive to fabricate or exaggerate his claim that Mr. Williams confessed to him while they were both incarcerated. Mr. Cole initially refused to participate as a witness in Ms. Gayle's case until he was promised payment and then made it clear in the 2001 deposition that he would not have come forward if it hadn't been for the $5,000 he was given by prosecutors. Notably, several details in his testimony were strikingly similar to the information that had been published in newspapers about the murder, suggesting he may have been fed this information directly or indirectly.
Prior to the deposition, Mr. Cole had pled guilty in 1996 to armed robbery of a bank and was sentenced to four years of probation with 10 years of prison suspended. Although he violated parole six times, the court never imposed the suspended prison sentence on him. 
Ms. Asaro, too, had a history of deception and had faced solicitation charges when police initially approached her about the case in Nov. 1999. 
She had worked with the police before and had testified against Mr. Williams in a previous trial. She even lied under oath in her recorded deposition regarding her arrest history. At some stage, police had considered charging her as an accomplice in the crime. Ms. Asaro also mentioned to her neighbor that she was receiving money for her testimony against Mr. Williams.
Further adding to the doubt, the narratives from Mr. Cole and Ms. Asaro were significantly different and didn't match the crime scene evidence. For example, Ms. Asaro testified that Mr. Williams had scratch marks on him, but there was no foreign DNA present underneath Ms. Gayle's fingernails.
The only evidence connecting Mr. Williams to Ms. Gayle's murder was the testimony of Mr. Cole and Ms. Asaro. According to the National Registry of Exonerations, incentivized witness testimony has contributed to 14% of death penalty cases that later led to a DNA exoneration. The two incentivized witnesses in this case were motivated by the reward money and favorable treatment in their own criminal cases.
4. No scientific or eyewitness evidence, or motive, connects Mr. Williams to the murder.
Even though this murder occurred in the middle of the day and neighbors were out and about, no one saw Mr. Williams anywhere near Ms. Gayle's house. Police found bloody shoe prints at the scene and concluded that they did not belong to Mr. Williams. They also collected and tested biological evidence from the scene and determined that none of this biological evidence belonged to Mr. Williams.   
5. In 2017, then Gov. Greitens stayed Mr. Williams's execution because of the powerful exculpatory DNA results. 
In August 2017, then-governor of Missouri, Eric Greitens, intervened just hours before Mr. Williams' scheduled execution, signing an executive order postponing the date. This was not the first time Mr. Williams' execution had been put on hold.
Gov. Greitens assembled a board of inquiry to thoroughly investigate the case and review all the evidence that had been presented at the trial. The board was also tasked with reviewing newly found DNA evidence and any other pertinent evidence to which the jury may not have had access. The order granted the board the authority to demand testimony and information, and required it to keep its proceedings and all collected information confidential. The executive order clarified that the execution would be postponed until the governor had decided whether Mr. Williams should be granted mercy, based on the board's findings.
However, it is unclear if any report has ever been issued. Mr. William's legal team never received a report, and Governor Parson dissolved the board without giving any indication that he had received a recommendation, and if so, what it was. 
Mr. Williams' case is riddled with unreliable incentivized testimonies and a complete absence of physical evidence linking him to the crime scene. The lack of consideration by any court of the exculpatory DNA evidence, which indisputably excluded Mr. Williams as a contributor, calls into question the validity of his conviction. Despite the evidence pointing to his innocence, Mr. Williams remains on death row more than two decades after his initial arrest. 
With the weight of this new evidence and the unreliability of the witnesses who testified against Mr. Williams, his conviction must be reevaluated to ensure that justice is truly served. His legal team, comprised of dedicated professionals from the Innocence Project, Midwest Innocence Project, and Bryan Cave, and attorneys Larry Komp and Kent Gipson, continues to fight to stop his execution and for his exoneration, hoping that justice will eventually prevail.
_______________________________________________________________________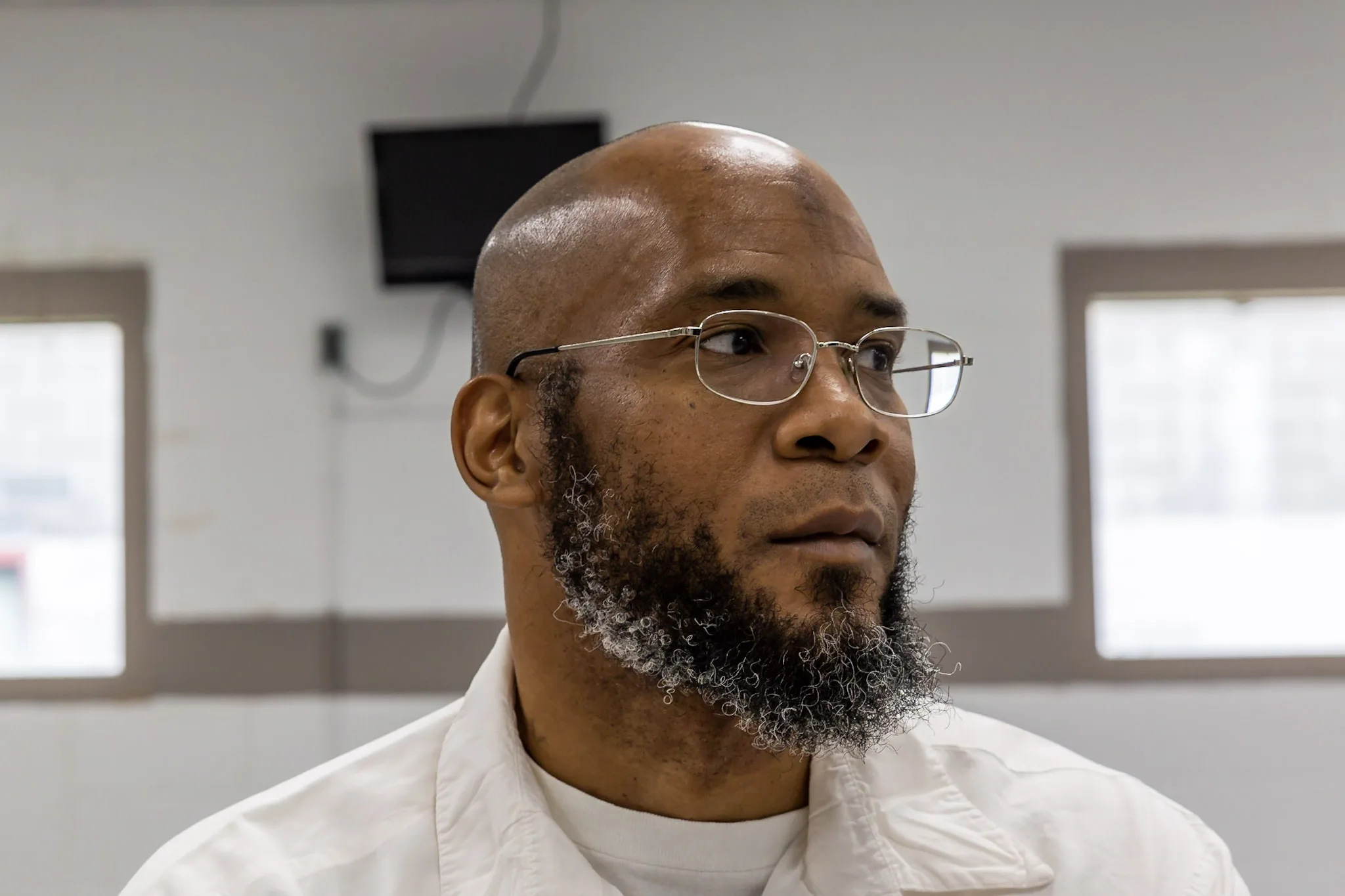 "The Superman Syndrome" by Marcellus Williams
never wrote a poem about my father,
although near, he wasn't around so why bother,
poppa was a true rolling stone,
maybe the vietnam war cut too deeply and distorted his view of his own,
so forgiving is my heart i have forgotten much,
-but clearly remember a beating as our first embrace
our first touch,
some may diagnose it:
dissociative experience due to me not viewing this bonding as traumatic,
even the use of "bonding" to many will be enigmatic,
now behold-
here is my father the first superhero type,
never knew at the time he would just be a stereotype,
still my heart keeps to forgiveness because i can see pass the world's flesh,
no tears were shed growing up due to being born with no regrets,
first born…
i am here adding to his malfunction,
i can only remember a yellow dump truck,
a bomb pop,
and a croquet set without instructions,
but when i say: "he's a master carpenter" i feel a sense of his worth,
then i realize i was never taught such-
abandonment attempts to surface along with shame and hurt,
these are just illusions, deceptions and whispers,
believe me devils are real i can hear the hissing-
but i ignore them no doubt when they spew their fiction,
…alcohol addiction, a player in his game,
how can one be cured from a disease that eases pain?
writing a poem about my father brought up feelings i never knew i had,
growing up i never thought of him,
-so i felt nothing…
and even now it's hard to consider it sad,
now come on and tell me that you understand-
how kryptonite can be one's children so he forego that part of being a man,
the truth is that i know that many can relate,
not so the rectification of my soul so i refuse bitterness and i reject hate,
therefore he still deserves respect and kindness as he is the parent,
a divinely prescribed order shunned by many but for my heart so necessary and apparent
Leave a Reply
Thank you for visiting us. You can learn more about how we consider cases here. Please avoid sharing any personal information in the comments below and join us in making this a hate-speech free and safe space for everyone.