The luckiest guy in the world
In 1993, Anthony Wright was a 22-year-old father, living in his native Philadelphia when he went on trial for the rape and murder of 77-year-old Louise Talley. It was a crime that he didn't commit, but he was convicted and sentenced to life in prison.
08.28.17 By Anthony Wright as told to Carlita Salazar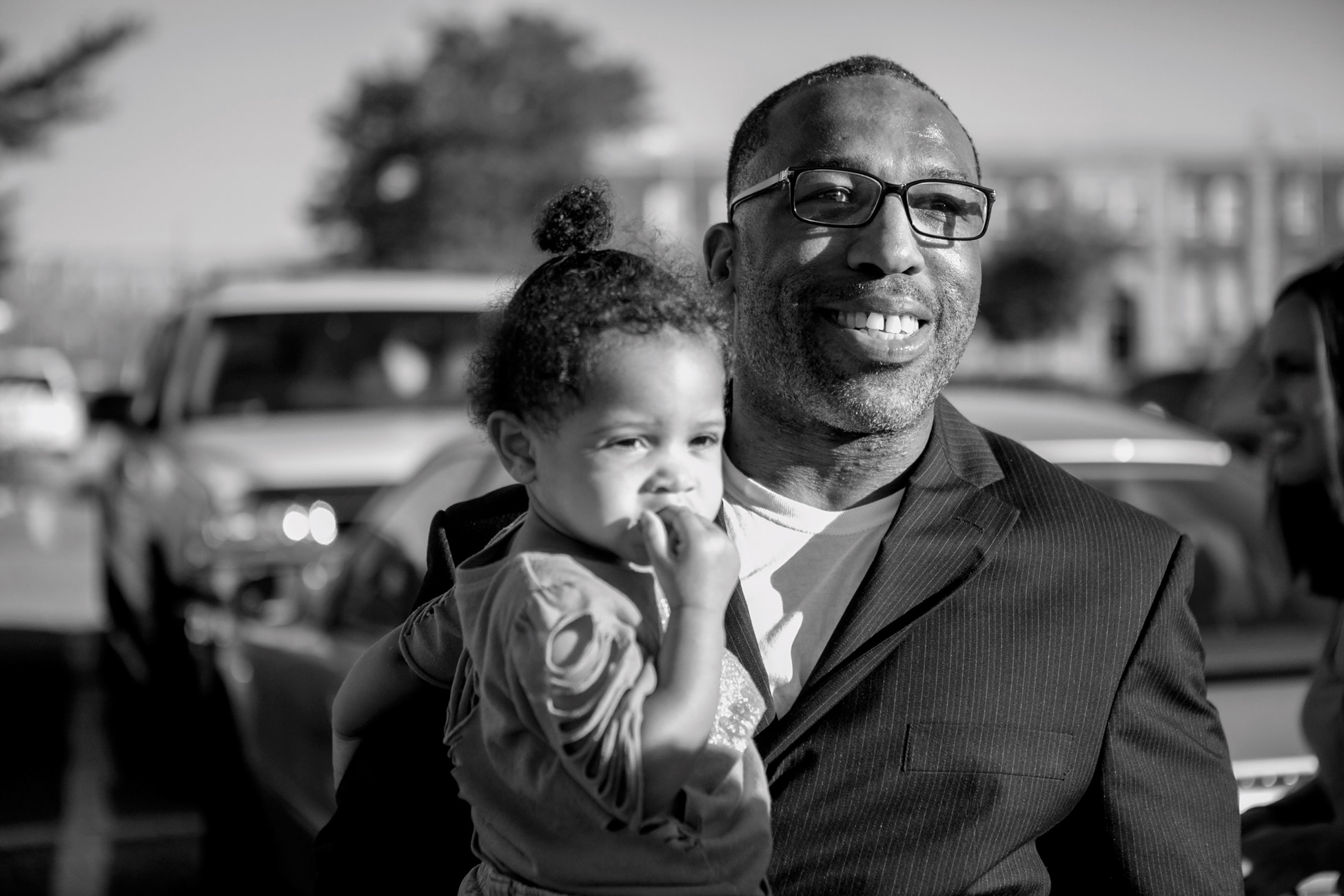 In 2013, DNA testing secured by the Innocence Project revealed that Anthony was excluded as the source of the sperm found inside the elderly homicide victim. The DNA implicated another man—Ronnie Byrd, a man with no connection whatsoever to Anthony. All evidence pointed to Anthony's innocence.
Prosecutors chose to ignore the facts. They reluctantly agreed to throw out Anthony's 1993 conviction, but decided to retry him, although it was eventually revealed that neither the Philadelphia Police Department nor the district attorney's office conducted any additional investigation.
In August 2016, buttressed by his legal team, Anthony went back to court.
The Innocence Project in Print interviewed Anthony this past November. He gave a gripping account of what it was like to be retried by a criminal justice system that was bent on blaming him for something that he did not do. Read his first-person story here.
Anthony Wright in his own words
In 2013, the DNA test came back. It was a huge relief. Finally, everybody else found out what I always knew: I was innocent.
For 22 years, I had said I was innocent. I had gone to court. I went to trial. I pleaded not guilty. I voluntarily took the witness stand and said that I didn't have anything to do with the crime—that I didn't know any of the perpetrators of the crime; I had no knowledge of it. But none of that mattered. I was convicted regardless of the facts.
For all those years, I endured so much. Do you know how many times the door was shut on me— slammed in my face? I just kept on knocking. I wasn't going away.
My attorneys fought the district attorney for years so that we could get that test, and they did what they said they would do. They got the evidence tested and proved that I was innocent.
But the Philadelphia prosecutors refused to let me go. Even after the facts came out, they still wanted to retry me. That was like a smack in the face. But, I felt like the results overshadowed everything else. So I knew after that point that it was just a matter of time until justice prevailed.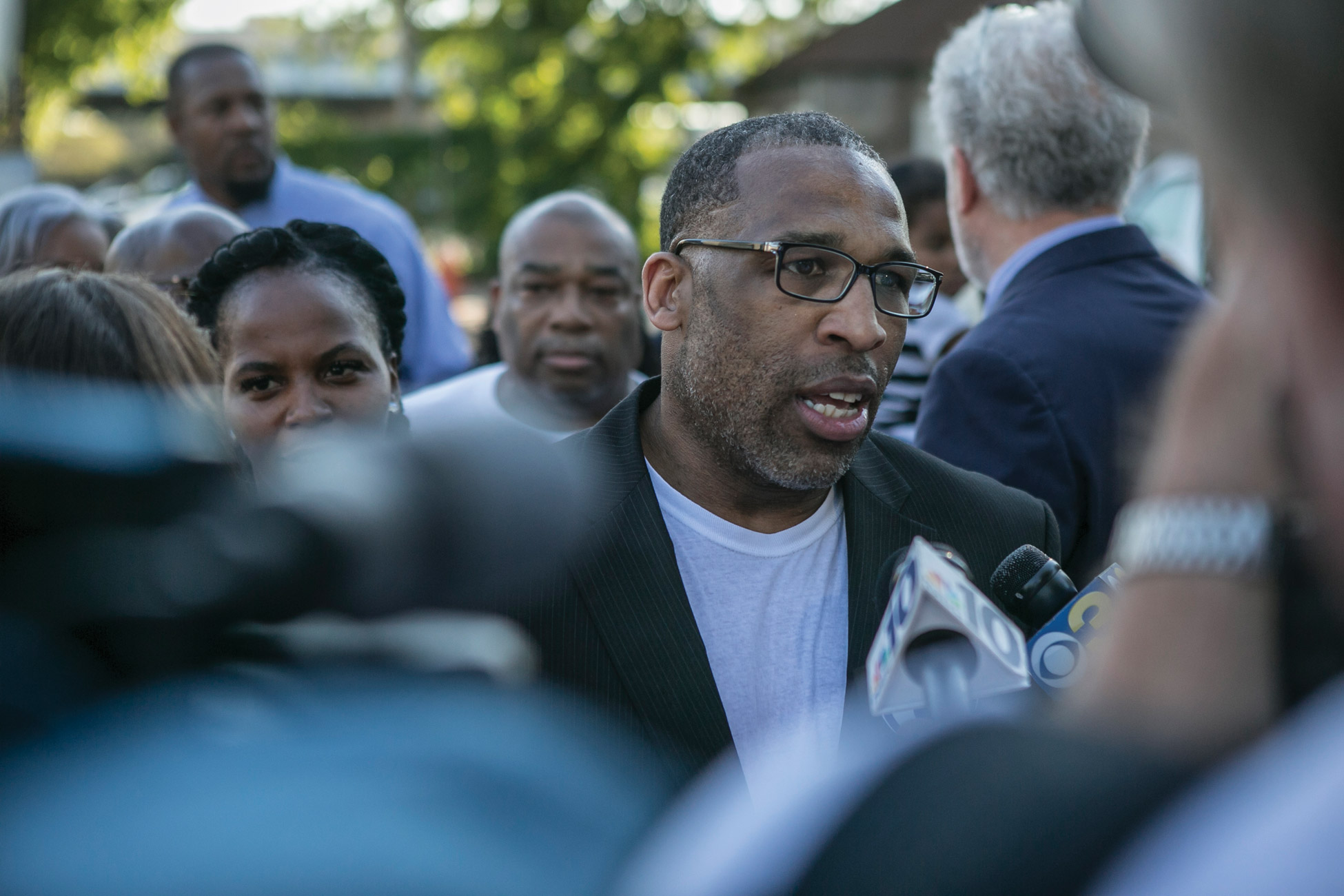 I wanted to use the trial to clear my family name. The crime that I was wrongly convicted of was the most horrendous crime that any human being could do to another human being, let alone an elderly person. And even more, for the victim, Ms. Talley, I wanted her family to know that I, Anthony Wright, had nothing to do with the murder, the rape, the robbery of their loved one. That was important to me.
Dealing with this court system, it's horrible. You know, people have power with no accountability, even when they do something wrong. So part of my mission in that trial was for people to see where the system had gone wrong.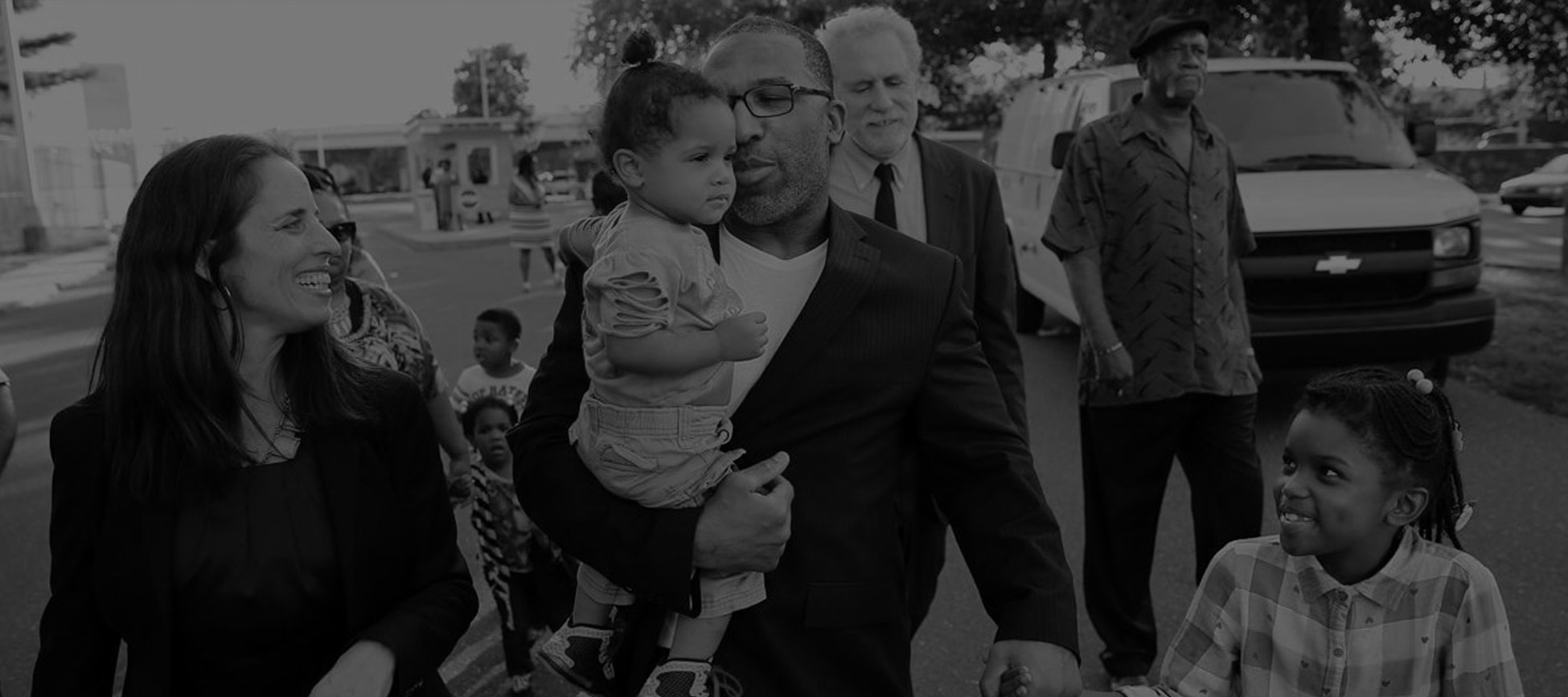 "The evidence was so compelling for Tony that there really could have been no other verdict"
"The evidence was so compelling for Tony that there really could have been no other verdict"
Preparing for the trial of a lifetime
It might sound crazy, but I wasn't worried about a thing. I knew that at the end of that trial, I was going to walk out a free man. I've never been so sure about anything in my life—not anything.
Before the trial started, right before the jury walked in, Nina Morrison—senior attorney at the Innocence Project and my lawyer since 2004—leaned over toward me and asked, "Are you ready for the trial? You've waited 24 years for this." I said, "Absolutely. Let's go."
The first day of trial, I wish everything could have just froze. Peter Neufeld gave the opening statement. It was unbelievable. I just wanted to play it over again. We won the trial the first day. Peter Neufeld won the trial the first day. He had everybody's attention. He talked about DNA, and the entire case from A to Z. Most opening statements take 20 minutes; Peter went an hour.
He was so good in that opening. I just wanted to get up and kiss him. I had goose bumps. I kept telling Nina, "Pinch me. Pinch me to see if I'm alive." I was holding my breath. I was hoping that time would stop. And it wasn't just the opening argument that was incredible. For the closing argument, I had my local attorney from Philly, Sam Silver. He was brilliant as well. And then I had Nina, and another Philly lawyer named Rebecca Lacher. The whole team was awesome, so I didn't have a worry in the world. During the trial, I had the chance to testify. It was great. I'd been waiting for that opportunity for 25 years. When I started testifying, some of the jurors started crying. One of them even called for a recess and she later told us it was because hearing me describe what I went through was so emotional.
The entire trial lasted 11 days. Everyone was following the case—the sheriffs, the guards, the correction officers—everyone. And each day, when it was lunch time, I would go back to my cell and there would be a bunch of sandwiches there waiting for me. But each day, I would pace because I couldn't wait to get back into court. I would put my hands in my pockets and walk—back and forth, back and forth.
Finally, on the 11th day, the jury went to deliberate.
On that day, I thought that someone was playing with me. As soon as I'd gone down to my cell—the sheriffs came back to get me. I heard, "Yo, we need Anthony." So I left my cell and went straight upstairs toward the courtroom. The guard told me, "One of your attorneys wants to talk to you."
Sam came over to talk to me. He said, "We've got a verdict."
Now, Sam's a jokester, so I told him, "Sam, this is not the time. Not right now, man. Don't do that."
He said, "Tony, I swear to God, I'm not lying. They've got a verdict." They'd reached their decision in less than an hour.
Peter and Rebecca came in. Peter said, "Tony—45 years. That's how long I been doing this. And in all that time, I've never witnessed anything like this. If I were a gambling man, I'd put my life on you today."
I didn't have a worry in the world, so I told Peter, "I'm ready. Let's go." We went into the courtroom. The jury came back.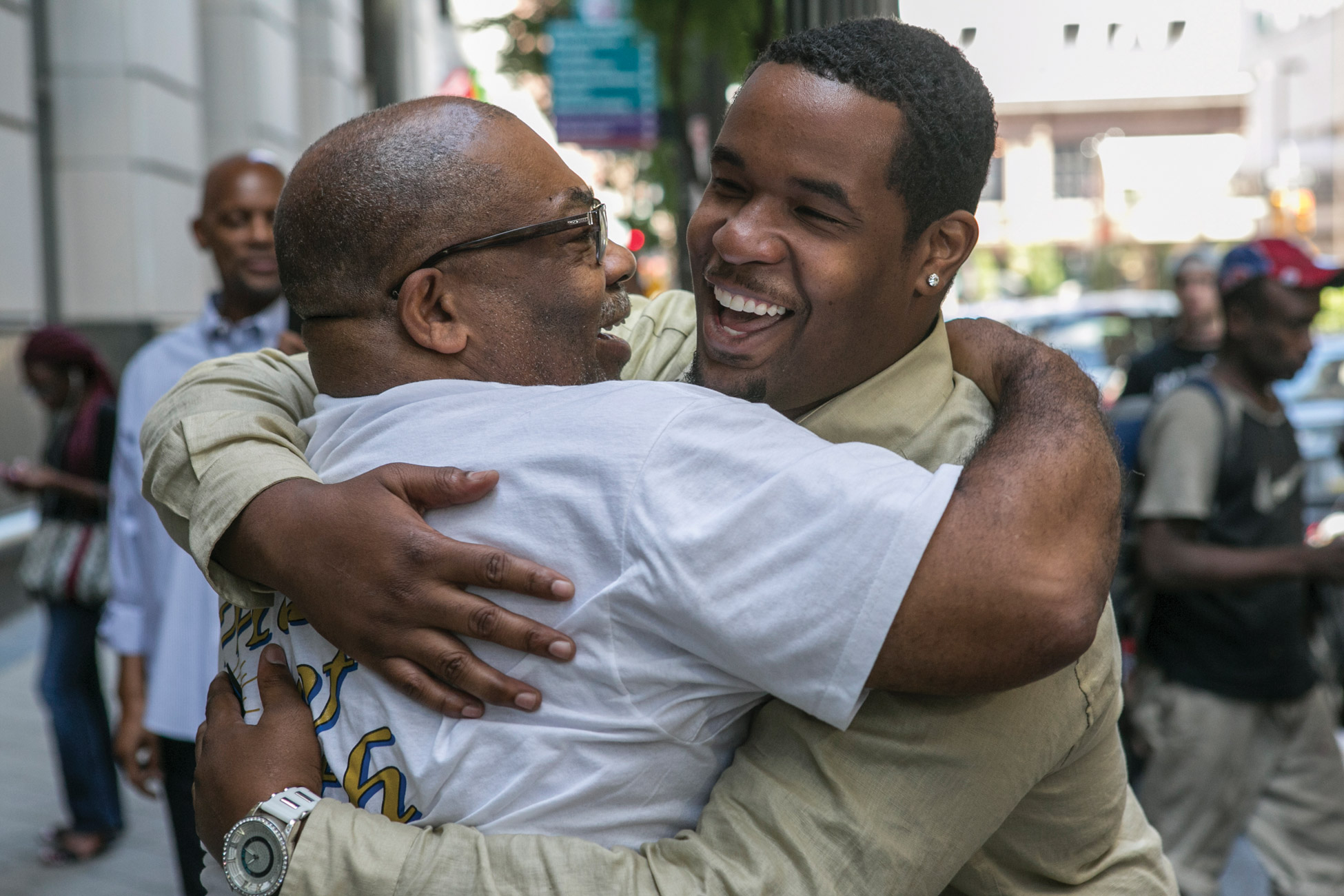 The bailiff asked, "How do you find the verdict for the charge of first degree murder?" The forewoman said in a loud, clear voice, "Not guilty!"
"How do you find the verdict in the charge of murder in the second degree?" asked the judge.
The foreperson said, "Not guilty!"
"How do you find in the third degree?" asked the judge.
Again, the lady said, "Not guilty!"
She just kept saying, "Not guilty, not guilty."
When she announced the verdict, I almost passed out. I stood there, crying with my hands in my face. My son was in the courtroom, crying. My parents were behind me, crying. It was unbelievable.
The judge refused to release me from the court. He made me get on a bus and go all the way back to the jail. Even all of the guards were saying privately, "Yo, are you crazy? That man did 25 years in prison and just got acquitted and you're sending him back? Let that man go."
But I'm glad that I went back because it was a celebration like crazy in there. It was insane.
My entire family and all of my attorneys traveled to the jail, too. They were all there to meet me as soon as I was released.
The next day, I got a chance to meet almost all of the jurors. They had been waiting for me right after the verdict was announced, but since I had to go back to the jail, my lawyers invited them to come to Sam's office the next day. When I finally met them, they hugged me. Everyone was crying. One of them had written a statement for me. She told me that from that moment on, I could do whatever I wanted. My life was mine.
Two days later, I saw the jury forewoman, Grace Greco, on the street. I was shopping for new glasses with my lawyers when I saw her walk by. I said to Rebecca, 'That looks like the jury foreman, Ms. Greco."
I ran out after her and called her name. She turned around, saw me and dropped her purse in the middle of the street. She screamed, "Oh my God, Tony!" That lady is so beautiful. She came over and gave me a huge hug.
Since Release
If it makes any sense, I'm a spoiled 45-year-old man. My family spoils me and I love it. I'm like a baby.
My aunts bring me big pans of food. I don't ever have to cook. They furnished my whole kitchen—brand new microwave, dishes, pots and pans, toaster—everything that I need—everything.
And everyone in my family checks in with me, makes sure that I'm ok.
I had relationships with all of those people before I was wrongfully convicted, but it wasn't like it is now. Before it was easier to take things for granted. Now I appreciate everything. After going through something like that, your appreciation and gratitude for even the smallest thing is greater; you appreciate every little thing.
I have a special lady in my life. I appreciate her especially knowing everything she puts up with from me. I'm a hard dude to deal with. I've been through so much. I'm a work in progress. I'm learning every day, even more so now, after having gone through what I have.
I don't hold ill will against anybody, though—no police, no judge, none of those people. I worship and serve the most forgiving and merciful God in the world. So if he can forgive, who am I to hold a grudge? That being said, I don't forget. What happened to me changed my life forever.
I lost my mother in 1998. She was 44 years old. I was 27 years old. I'm now 45 years old. My mother's birthday was November 14. She would have been 63.
The one thing I'm haunted by every day is that when she needed me I wasn't able to be there for her. Only recently, for the first time, I had the chance to go to her grave site.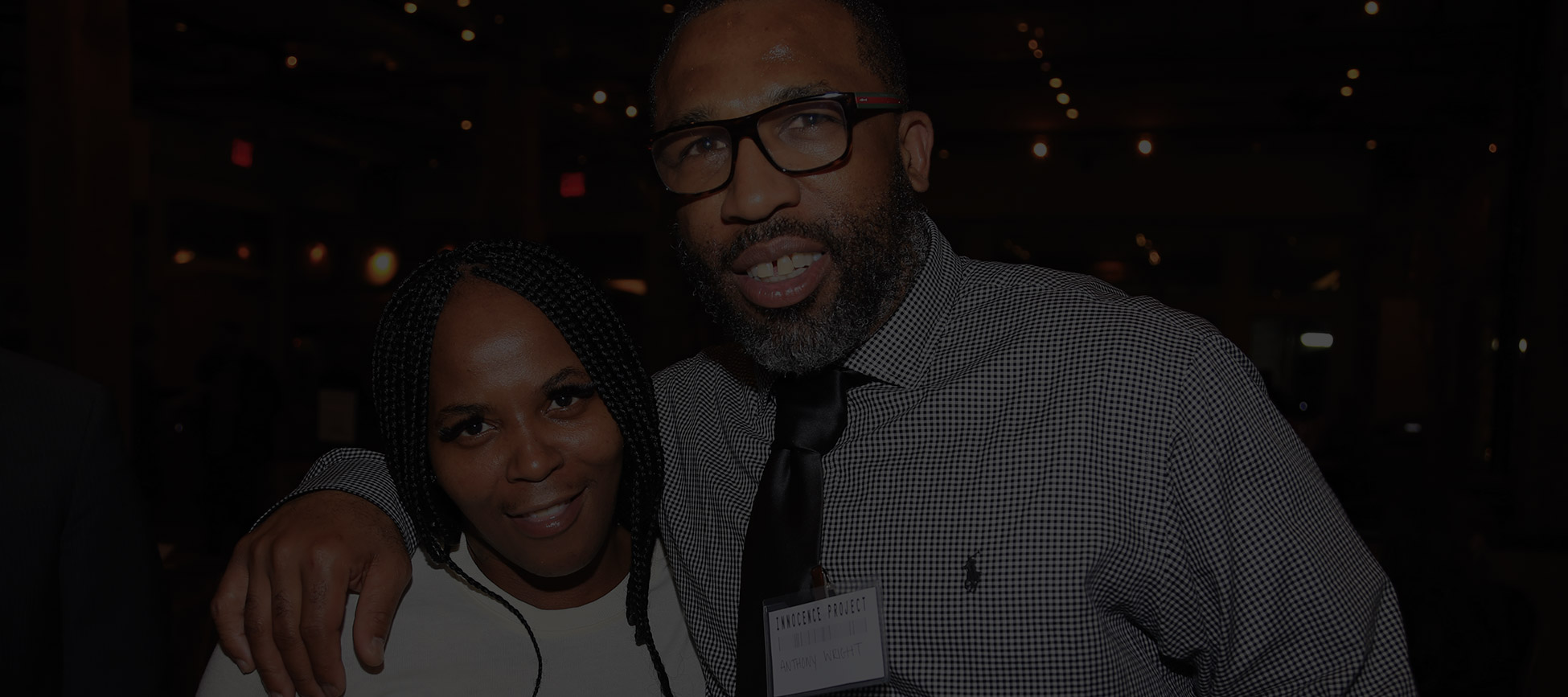 "I want to thank every person who supported the Innocence Project throughout the entire time of my case. I want to thank them for enabling the project to do its work."
"I want to thank every person who supported the Innocence Project throughout the entire time of my case. I want to thank them for enabling the project to do its work."
I'm so grateful
When I came home, a number of judges told my lawyers in Philly that they wanted to meet me. I went to see one of them. I walked into the office and he told me, "You've got a job here. You can start whenever you want." It's a temporary, six-month job. I started on October 17.
Recently I received my first paycheck. It was great! I bought new furniture for my place. But I don't know how to shop yet; everything is too big for my house! I bought an entertainment center—it takes up the entire wall.