The Global Innocence Movement Marches for Justice
"We cannot walk alone. And as we walk, we must make the pledge that we shall always march ahead. We cannot turn back." - Dr. Martin Luther King Jr.
The 2018 Innocence Network Conference was held in Memphis, TN, a few days before the 50th anniversary of Dr. Martin Luther King Jr.'s assassination. To honor Dr. King's legacy and to connect the work of the Innocence Movement to the Civil Rights Movement, the Innocence Network successfully organized and executed its very first "March for Justice." Over 800 people marched through the streets of downtown Memphis, all committed to fighting for justice and to ending wrongful convictions. The outcome was truly remarkable, demonstrating just how powerful marches are as a means to attain justice.
Marches have been critical to reshaping the course of history. Through marching, our nation has carved out a definitive path towards justice. A form of "nonviolent direct action," marches were especially critical during the Civil Rights Movement. As Dr. Martin Luther King Jr. wrote in A Letter from a Birmingham Jail: "Nonviolent direct action seeks to create such a crisis and foster such a tension that a community which has constantly refused to negotiate is forced to confront the issue. It seeks so to dramatize the issue that it can no longer be ignored."
During the Civil Rights Movement, hundreds, thousands and sometimes hundreds of thousands of people gathered to protest the racial inequality that swept the nation. After thousands of protests, marches and other forms of nonviolent direct action, eventually the people's voices could no longer be ignored.
The Civil Rights Movement became a blueprint for future protest movements, with nonviolent direct action being at the core of them all. Time and time again—from the March on Washington in 1963 to the nation-wide #blacklivesmatter demonstrations in recent years—marches and nonviolent direct action have proven to be a successful tool in driving conversation, elevating a collective voice and fostering meaningful change.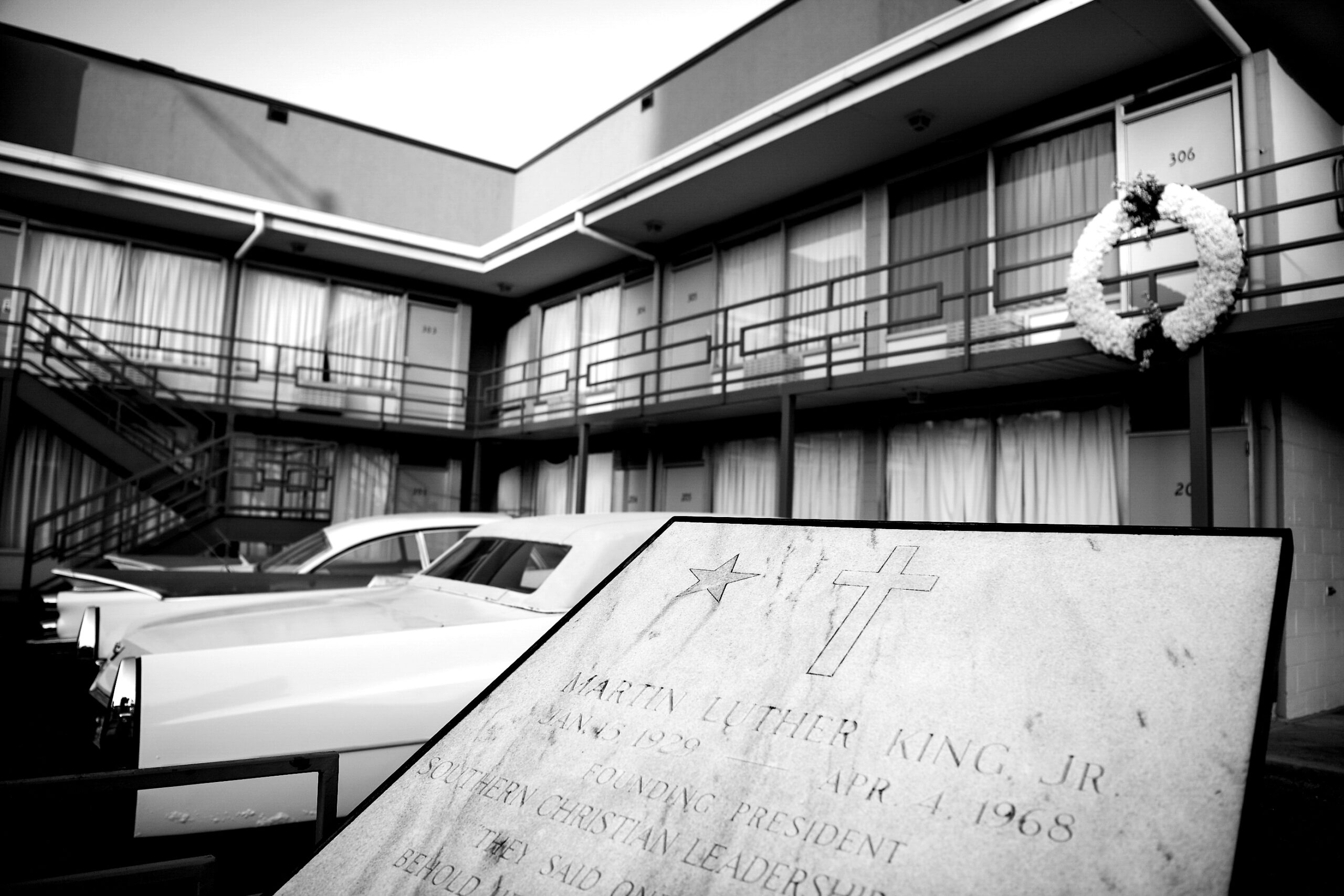 "Why don't we plan our own march inspired by Dr. King and in honor of those who have been wrongly imprisoned?"
"Why don't we plan our own march inspired by Dr. King and in honor of those who have been wrongly imprisoned?"
The March for Justice was the brainchild of exoneree Cornelius Dupree. When Dupree realized the historical significance of the date and location of the 2018 Innocence Network Conference, he thought, "Why don't we plan our own march in honor of Dr. King and of those who have been wrongly imprisoned?" Cornelius envisioned that the event would be "more or less like a reenactment of the '60s when Dr. King marched." He wanted it to be a joyous time; a time when freedom, justice and equality could be felt by anyone in attendance. He hoped the march would be an event people would remember for the rest of their lives.
With the support of his wife Selma, Cornelius brought the idea to Innocence Project executive director Maddy deLone's attention, and the planning commenced. Knowing it would be no small feat to organize a march that would have nearly one thousand attendees, a working group of eight people from across the Innocence Network assembled to make Cornelius's vision a reality.
"It was a once in a lifetime opportunity to plan," said Shoshanah Kennedy Hobson, the Innocence Project's events and special projects manager, on what motivated her to join the march planning group. "It would be held on the 50th anniversary of Dr. King's death, in front of the Civil Rights Museum where he was assassinated, with hundreds of exonerees, their family members and the people who fight tirelessly for their freedom. How could I not be a part of the planning process?"
Center on Wrongful Convictions exoneree Jason Strong was also excited to participate in the planning and to raise awareness for the Innocence Movement. "We need more public showing of our cause, so people can see, learn and wake up to the reality that wrongful convictions are real and a huge problem," said Strong.
Several months later, the March for Justice came to fruition on March 24, 2018. A sea of 850 green shirts with the Innocence Network logo on the front and a Dr. King quote on the back assembled at the Peabody Hotel, where the conference was held. Exonerees and their family members marched at the front, proudly holding a banner with the famous Dr. King quote in bold: "Injustice anywhere is a threat to justice everywhere." Other participants held up handmade signs with calls for action such as "Stop Prosecutorial Misconduct!" and "End Mass Incarceration!"
As the group of 850 marched down what was before a desolate street, Memphis residents and visitors stepped out of businesses and restaurants to observe and cheer. Exoneree Rodney Roberts led everyone in a chant that could be heard for miles: "Who are we? … Innocent! … What do we want? … Justice! … When do we want it? … NOW!"
The march ended on the grassy hill in front of the Civil Rights Museum, where everyone gathered and knelt in silence to pay homage to Dr. King, his fight for justice and the lives of exonerees lost. Various exonerees and their family members then delivered speeches about racial injustice, why innocent people plead guilty, innocent people on death row, the unique experiences of female exonerees, the impact of wrongful convictions on families and the need for compensation in all fifty states, among other topics.
"The prison population in 1968, the year Dr. King was assassinated, was under 200,000," said Roberts in his powerful speech to the crowd. "Today, that number is more than 2,000,0000, and the racial dimensions are inescapable. Fighting mass incarceration is the civil rights issue of today, and the greatest threat to the fulfillment of Dr. King's legacy is today's criminal justice system. My greatest wish is that we shall overcome."
Innocence Ambassador and world-renowned bassist, vocalist and composer Esperanza Spalding concluded the evening with a moving performance of a song she had written about Cornelius Dupree. Her angelic voice echoed through the crowd as she sang:
Finally, they've exonerated Dupree
But it cost him his parents, and his wife, his home, his life
In the land of the free
Evidently five fifths an innocent man but the court only saw three
He spent eleven thousand days locked away
In the land of the free
How can we call our home, the land of the free
Until we've unbound the praying hands
Of each innocent woman and man
In these lands of the…
A few months later, Cornelius reflects on the march, describing it as an "event that people will talk about for years to come." He is certainly not alone in his thinking. Innocence Project client Leroy Harris, who stood at the front lines of the march, shares a similar sentiment: "It was extraordinary; it was a moment in my life I will never forget. It shed light on the injustices that not only we as exonerees faced, but it also on what we faced as a nation during times of racial hatred."
The March for Justice was the first march of its kind, and it will certainly not be the last. The Innocence Project sends a huge thank you to Cornelius, the march planning committee, the 57 Innocence Network organization members in attendance and all of the exonerees and their family members who showed up, marched for justice, honored Dr. King's legacy and continue to work tirelessly to free the innocent and to end wrongful convictions.
In the words of exoneree Kirk Bloodsworth, "We have to keep marching until our beautiful country sees the light."
Leave a Reply
Thank you for visiting us. You can learn more about how we consider cases here. Please avoid sharing any personal information in the comments below and join us in making this a hate-speech free and safe space for everyone.