Road Trip to Bonnaroo Music Festival
This past June, Innocence Project Digital Communications Manager Alicia Maule packed her bags and headed south to Tennessee for the Bonnaroo Music and Arts Festival where she was joined by local exonerees Ricky Lee Nelson and Randy Mills. For this edition of "In First Person," Maule reflects on a truly memorable experience.
11.30.17 By Alicia Maule, Photos by Elijah Craig III.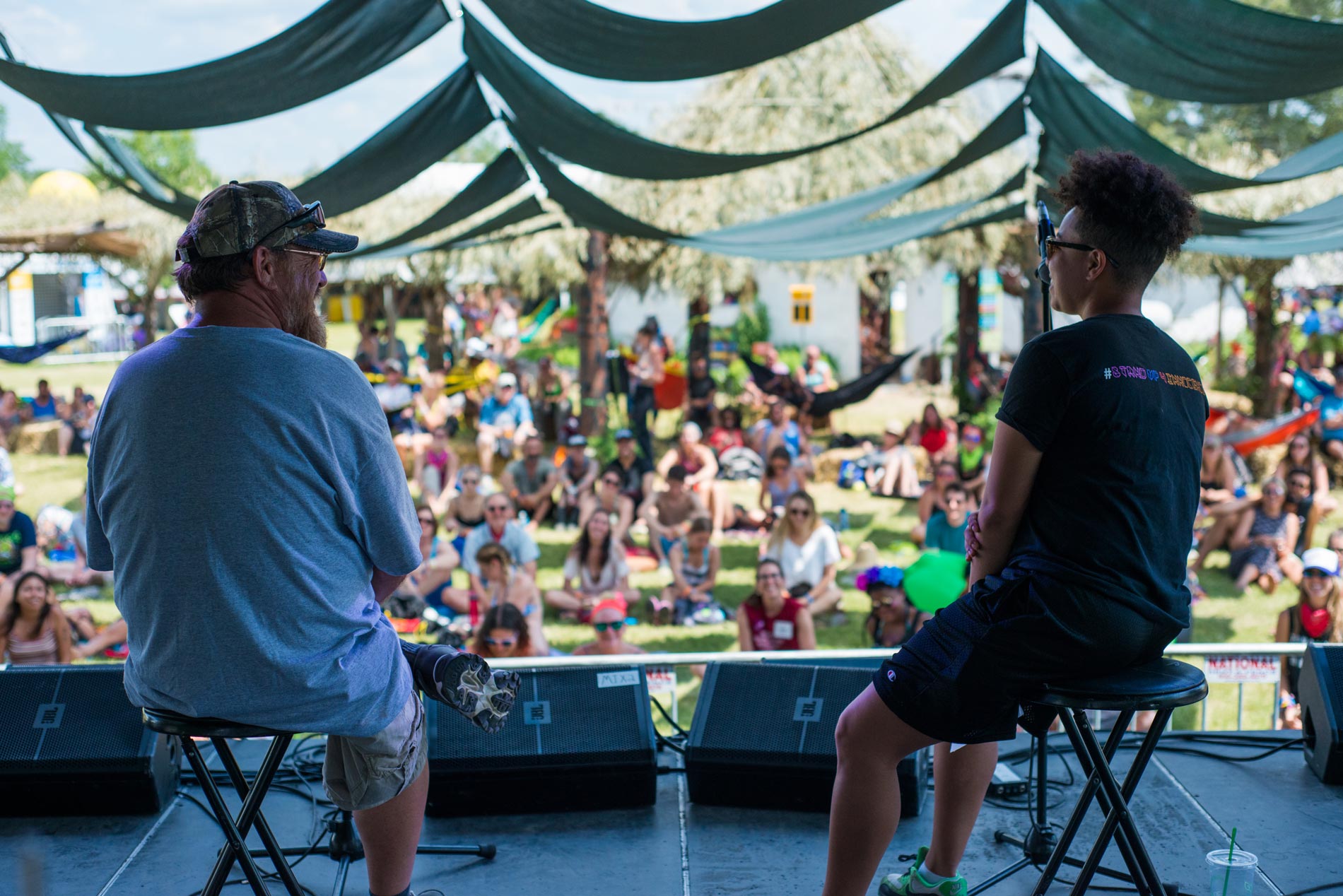 "Gator for the first time in my life," Ricky Lee Nelson, 56, enthusiastically said just before taking a forkful of fried gator meat. He and I had purchased jambalaya from one of dozens of vendors keeping people fed at the Bonnaroo Music and Arts Festival in his home state of Tennessee this past June.
We both agreed that this was our chance to try alligator.
"It tastes like chicken, it tastes like fish," Nelson disclosed. "Matter of fact, Buffalo fish is the taste I am getting out of it. But it also has the crunch of a chicken. I like it."
Earlier that week, Nelson, after several attempts at renting a car, had taken an eight-hour Greyhound bus from Memphis to Manchester, Tennessee. It was clear that nothing was going to get in the way of his getting to the four-day music and arts festival on a 700-acre farm known for its rock headliners and its 60,000 free-spirited patrons. Some call it the second coming of Woodstock. Once Nelson was there, he was invested in making the most of his experience.
The festival had invited the Innocence Project to participate in Planet Roo, the venue's community of nonprofits that attend to raise public awareness around a range of social justice issues. For the Innocence Project, the festival was an opportunity to showcase our work and connect with a new, largely millennial audience. Although a local, Nelson had never attended the festival. Between 1989 and 2014, opportunities like Bonnaroo were unthinkable to him as a person living out a 43-year sentence in a Tennessee state penitentiary for a rape committed by another man also named Ricky Nelson.
The wrongful conviction cost Nelson half his life in prison and a re-entry journey that has been tainted with homelessness and joblessness. But somehow just a few minutes with Nelson and a person forgets all that has been taken from him. Nelson revels in his freedom. His passion for life exceeds the damning effects of his wrongful conviction.
At our tent in Planet Roo, Nelson was energetic and engaging.
"Do you know about the Innocence Project?" he would say to the beaming gaggles of 20-somethings walking past our tent. "Come here, let me tell you about it."
"How long were you [in prison for]?' Kofi Christie, a graduate student at Morehouse College, asked one afternoon.
"Thirty years," Nelson replied.
"Oh my goodness," the 23-year-old said. "It's so good to see you here right now and not in there. The system is so large."
Conversations like the one between Christie and Nelson about the criminal justice system were happening in our tent throughout the four days of the festival. We created a space where people could walk through a photo gallery of exonerees and learn their stories, sport temporary Innocence Project tattoos, capture a group photo with Polaroid prints and learn about the systemic problems that plague the justice system.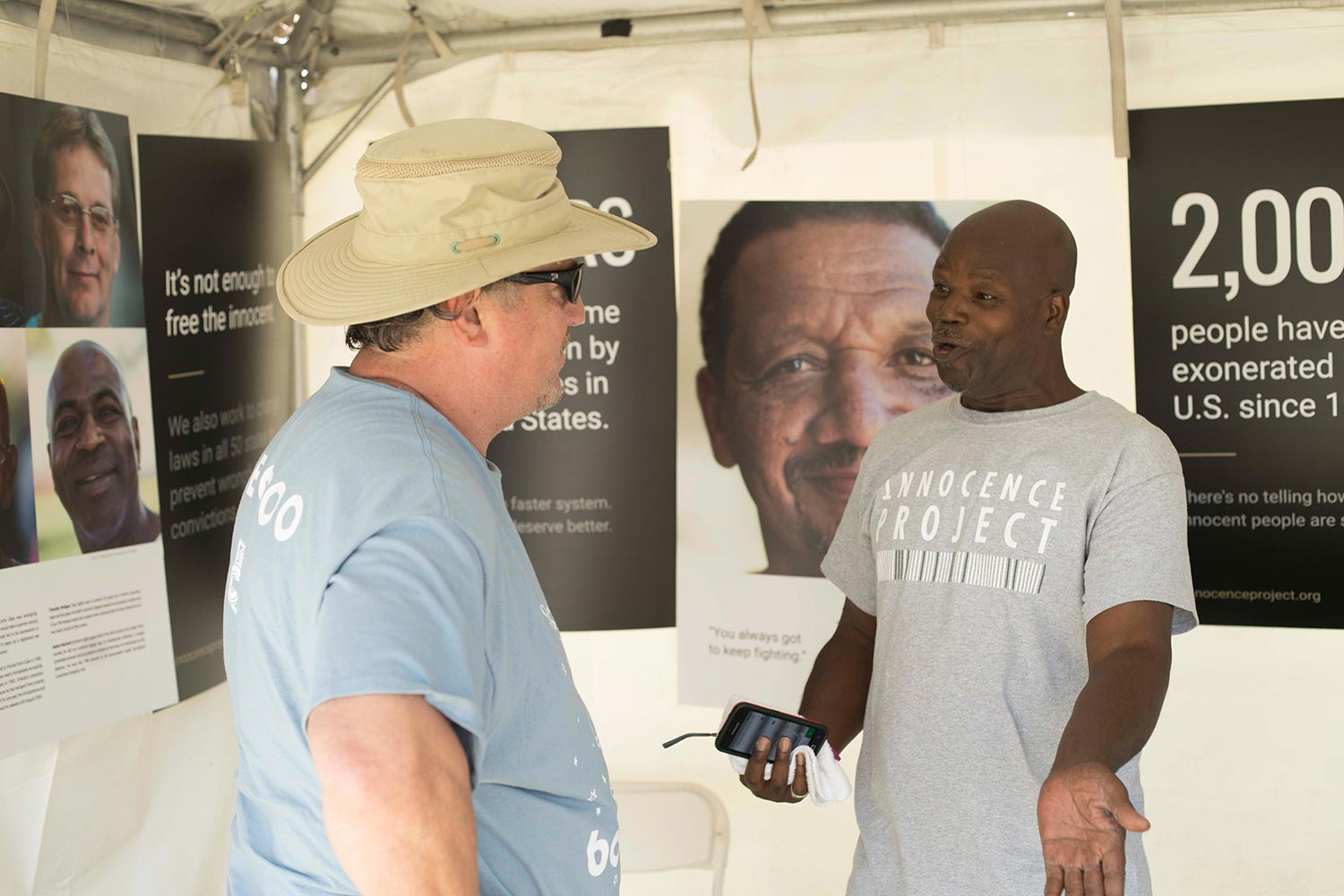 More powerful than any of the swag or giveaways, though, was the chance for festival goers to talk with Nelson and fellow exoneree Randall Mills one-on-one and learn firsthand about their experiences being wrongfully convicted.
Mills, from Nashville, joined us on the third day of the festival. He had agreed to do a live Q&A session in front of an audience.
When the time came for us to go on stage, I found myself trying to ignore the sonic boom of drums and electric guitar blasting us from a performance a quarter of a mile away. All I could think was: how are we going to keep the audience engaged?
However, after just a few minutes of Mills telling his story, it became clear that my worries were unnecessary. The audience was completely engrossed.
Mills shared everything that went wrong in his case when he was falsely accused of raping his 12-year-old neighbor.
"I was a poor guy so I had to take a court-appointed attorney and I didn't know a whole lot about the law," Mills explained. Although "attorneys like the plea deal," Mills said, he went to trial. When the trial concluded, the jury reached its verdict after only 15 minutes of deliberation. Mills, a single father, was convicted of sex abuse and possession of drugs. He was sentenced to 20 years in prison for a crime he did not commit.
Mills described how the wrongful conviction took an unimaginable toll, and not simply on him, but also on his family. Within a year of Mills' imprisonment, his youngest son committed suicide.
The "worst part about being in prison was losing someone that I cared about," Mills said. "My son was only 15."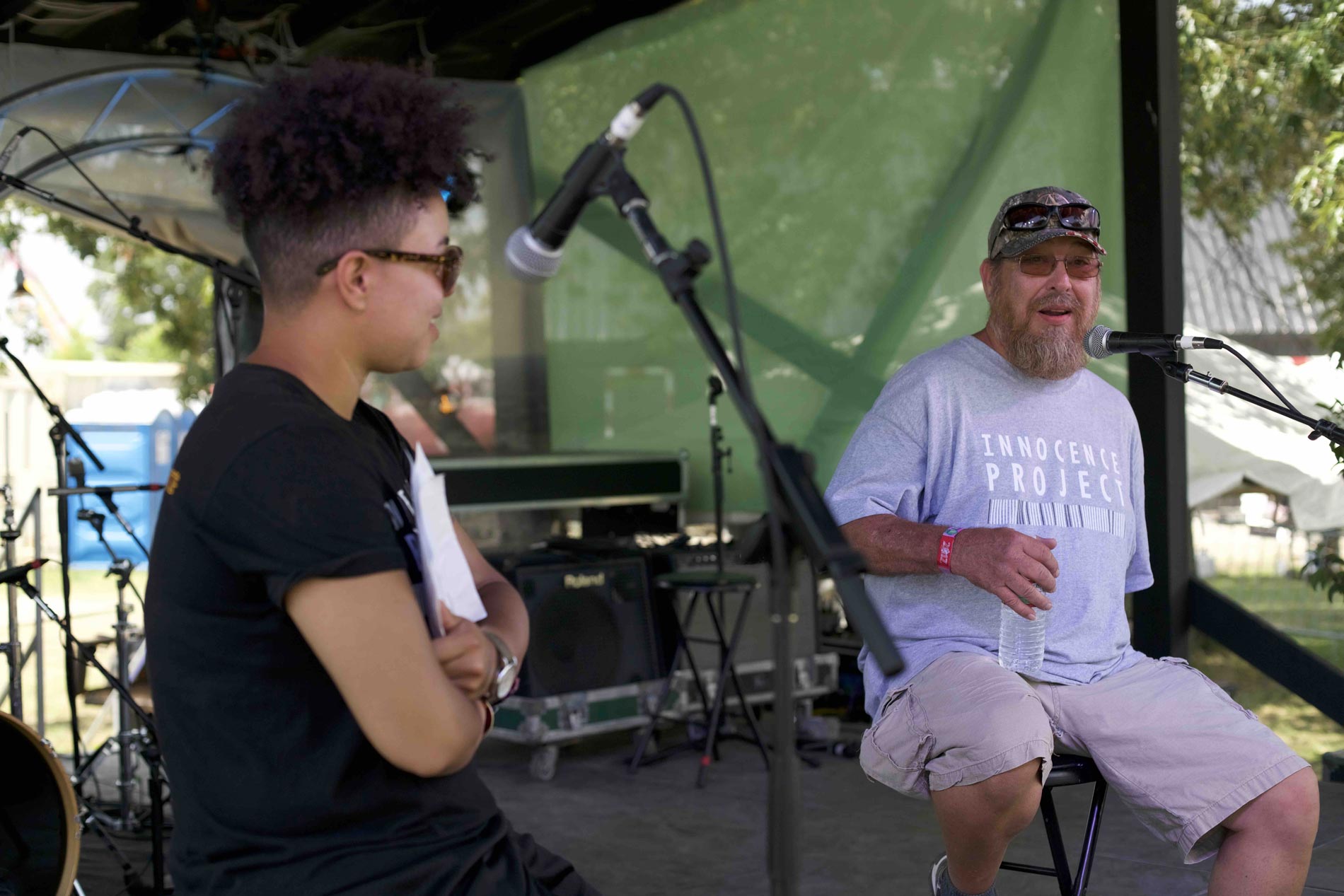 As Mills sat on stage and shared his story, the air was heavy. My ears went numb to the thumping. The audience was still and tears were rolling down several faces, even that of the stage manager to my left. They listened intently, shouted words of support and volunteered to help write letters on his behalf after learning that he was denied compensation for his wrongful conviction.
Enrico Trevasani, a college student from the University of Arizona, came to our tent later that day. He told us that at the beginning of Mills' talk, he was perched in one of Planet Roo's hammocks on the outskirts of the stage area. He had planned on taking a nap but soon realized that he couldn't sleep as he listened to Mills talk about his wrongful conviction, fighting back tears.
"It's hard not becoming emotionally involved when you hear about someone's story like Randy's and the courage it takes to come out and be vulnerable with people," Trevasani said. "I've heard stories like this before but it always does change the way you feel about the criminal justice system. I knew I wanted to go to law school but this experience makes me want to focus on criminal justice."
Later that evening, Mills reflected on what it was like for him to speak to the large crowd.
"I think the best part about Bonnaroo was the way the crowd listened to my story," he said. "I was very moved by the response."
Over four days, we met a diverse range of people, from eager college students like Trevasani, to James Murray, who was freed after President Obama commuted thousands of nonviolent drug sentences, to Charlie Engle, who was wrongly convicted of mortgage fraud.
Among the thousand people we interacted with, it was clear that innocence work had sparked the interest of young folks through the storytelling of Making a Murderer and Serial. A couple hundred people signed up to join the innocence community, many expressed gratitude for the work and others shared their personal battles with the criminal justice system.
One group in particular went to the festival with the purpose of spreading the word about Adam Braseel, a man in prison for a murder in which no evidence points to him as culpable.
Brenda Braseel, sister to Adam, and two other advocates sprinted toward our tent to thank us for the coverage of his case on the Innocence Blog. Until that post, they felt his story was largely ignored. They were overjoyed to meet Nelson and could not stop hugging him and the other Innocence Project volunteers.
"Meeting you guys was bucket list worthy," Tammie Capps, one of his advocates, wrote on our website. "Crying with you was an honor. Thank you for your coverage on the story of Adam Braseel, and welcoming us with open arms."
In all of the triumph honoring Nelson and Mills and their road to freedom, Capps' tears are a reminder of those still suffering in prison. Our work is never done and is always evolving. In that evolution, we welcome new and sometimes unexpected opportunities like Bonnaroo to pass on our mission to the next generation of lawyers, advocates, scientists and supporters.
After all, it's up to them—up to us—to stop the cycle of wrongful conviction.
Leave a Reply
Thank you for visiting us. You can learn more about how we consider cases here. Please avoid sharing any personal information in the comments below and join us in making this a hate-speech free and safe space for everyone.