Road Trip to Bonnaroo Music Festival
This past June, Innocence Project Digital Communications Manager Alicia Maule packed her bags and headed south to Tennessee for the Bonnaroo Music and Arts Festival where she was joined by local exonerees Ricky Lee Nelson and Randy Mills. For this edition of "In First Person," Maule reflects on a truly memorable experience.
11.30.17 By Alicia Maule, Photos by Elijah Craig III.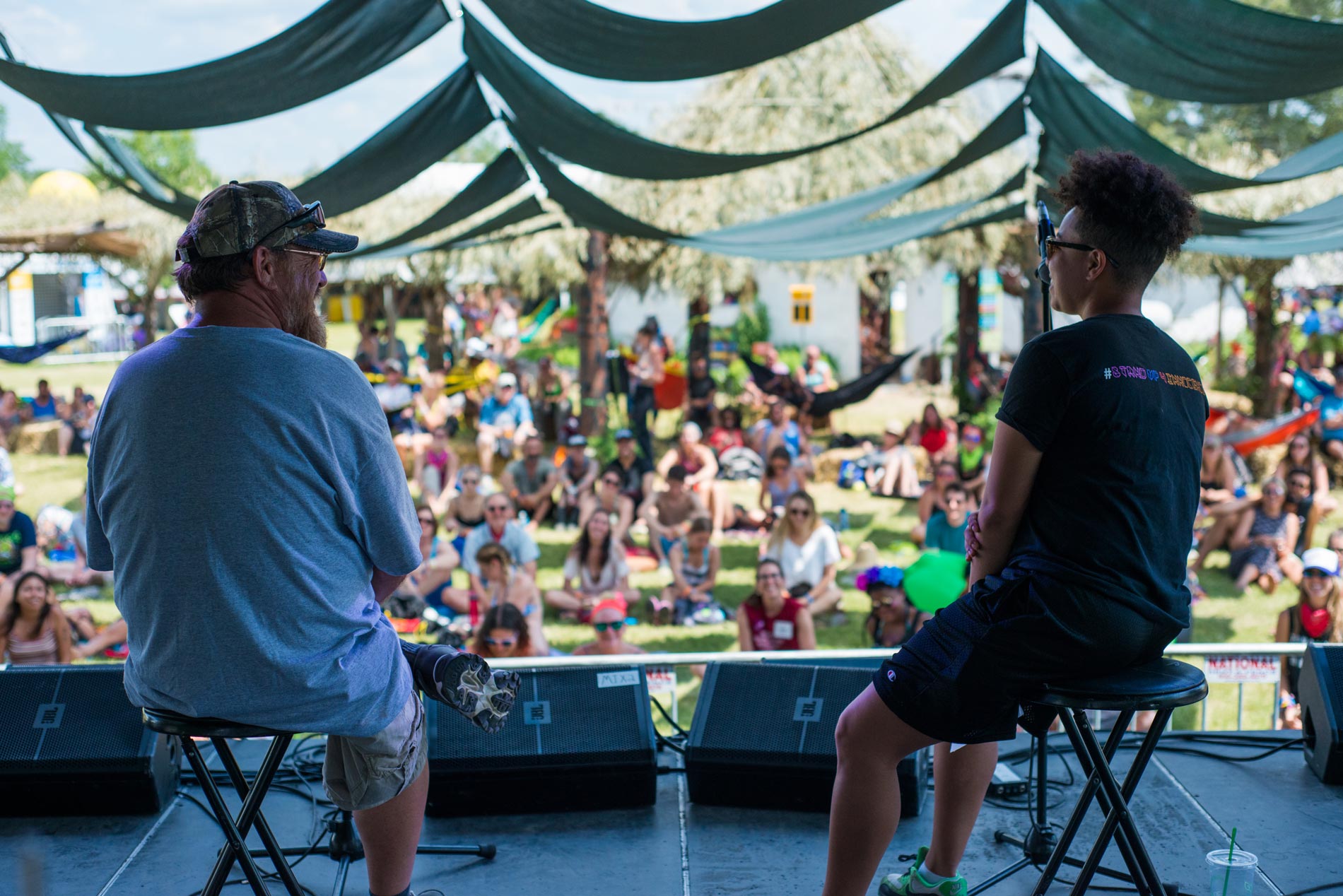 "Gator for the first time in my life," Ricky Lee Nelson, 56, enthusiastically said just before taking a forkful of fried gator meat. He and I had purchased jambalaya from one of dozens of vendors keeping people fed at the Bonnaroo Music and Arts Festival in his home state of Tennessee this past June.
We both agreed that this was our chance to try alligator.
"It tastes like chicken, it tastes like fish," Nelson disclosed. "Matter of fact, Buffalo fish is the taste I am getting out of it. But it also has the crunch of a chicken. I like it."
Earlier that week, Nelson, after several attempts at renting a car, had taken an eight-hour Greyhound bus from Memphis to Manchester, Tennessee. It was clear that nothing was going to get in the way of his getting to the four-day music and arts festival on a 700-acre farm known for its rock headliners and its 60,000 free-spirited patrons. Some call it the second coming of Woodstock. Once Nelson was there, he was invested in making the most of his experience.
The festival had invited the Innocence Project to participate in Planet Roo, the venue's community of nonprofits that attend to raise public awareness around a range of social justice issues. For the Innocence Project, the festival was an opportunity to showcase our work and connect with a new, largely millennial audience. Although a local, Nelson had never attended the festival. Between 1989 and 2014, opportunities like Bonnaroo were unthinkable to him as a person living out a 43-year sentence in a Tennessee state penitentiary for a rape committed by another man also named Ricky Nelson.
The wrongful conviction cost Nelson half his life in prison and a re-entry journey that has been tainted with homelessness and joblessness. But somehow just a few minutes with Nelson and a person forgets all that has been taken from him. Nelson revels in his freedom. His passion for life exceeds the damning effects of his wrongful conviction.