Movie Night with Innocence Ambassador Nnamdi Asomugha
05.04.18 By Innocence Staff
Last night, the Innocence Project hosted a screening of Crown Heights. The film tells the true story of Colin Warner–who was wrongly convicted of a murder he did not commit–and the dedication of his best friend, Carl King, toward proving his innocence. At the end of the film, we had the honor of hosting a talkback with Innocence Project Ambassador and star of the film, Nnamdi Asomugha, and our director of post-conviction litigation, Vanessa Potkin. The audience was filled with Innocence Project staff, board members, exonerees and supporters.
Here are some photos of the evening:
The theater.
Vanessa Potkin and Nnamdi Asomugha.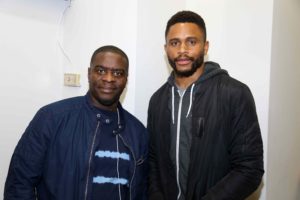 Innocence Project Exoneree Mark Denny and Nnamdi Asomugha.
Innocence Project staff, exonerees, board members and supporters with Nnamdi.
Leave a Reply
Thank you for visiting us. You can learn more about how we consider cases here. Please avoid sharing any personal information in the comments below and join us in making this a hate-speech free and safe space for everyone.