Last night, the Innocence Project hosted a screening of Crown Heights. The film tells the true story of Colin Warner–who was wrongly convicted of a murder he did not commit–and the dedication of his best friend, Carl King, toward proving his innocence. At the end of the film, we had the honor of hosting a talkback with Innocence Project Ambassador and star of the film, Nnamdi Asomugha, and our director of post-conviction litigation, Vanessa Potkin. The audience was filled with Innocence Project staff, board members, exonerees and supporters.
Here are some photos of the evening:
The theater.
Vanessa Potkin and Nnamdi Asomugha.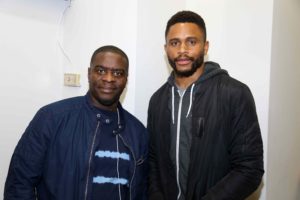 Innocence Project Exoneree Mark Denny and Nnamdi Asomugha.
Innocence Project staff, exonerees, board members and supporters with Nnamdi.