8 Moving Moments from Leonard Mack's Historic Exoneration after 47 Years
"It's overwhelming that today I am walking through the front door [of the courthouse] as a free man."
Breaking News 09.07.23 By Alicia Maule
"It's overwhelming that today I am walking through the front door [of the courthouse] as a free man."
Breaking News 09.07.23 By Alicia Maule
After a staggering 47 years bearing the weight of a crime he did not commit, Vietnam War veteran Leonard Mack finally received justice on his birthday in White Plains, NY.
A collaboration between the Innocence Project and the Westchester County District Attorney's Conviction Review Unit, combined with new DNA testing of crime scene evidence, sealed Mr. Mack's long-awaited exoneration for a 1976 rape and criminal possession of a weapon conviction. In a series of groundbreaking events, not only did Mr. Mack's conviction emerge as the longest overturned by DNA evidence in U.S. history, but the actual assailant was identified from the DNA test results and subsequently confessed to the crime.
"The last time I was in this courthouse, it was 1976 and I went through the back entrance in handcuffs," Mr. Mack said before walking into the White Plains courthouse for the exoneration hearing. 
"It's overwhelming that today I am walking through the front door as a free man."
Take a look at the most moving moments from the historic day.
Mr. Mack's case makes history as the longest wrongful conviction overturned by DNA. 
Mr. Mack spent 7.5 years in prison but it took 47 years for the court to clear his name in the rape and sexual assault of two girls. He was just 23 years old when he was convicted and sentenced to prison and 72 on the day he was exonerated. This is the longest known wrongful conviction case overturned by DNA in U.S. history. 
2. State Supreme Court Judge Anne E. Minihan walked off the bench to embrace Mr. Mack after overturning his conviction.
"[Presiding over this case] has been the highlight of my career," said Judge Minihan, concluding her remarks on overturning Mr. Mack's case. She then asked Mr. Mack if she could give him a hug, walked over to embrace him, gave him a kiss on the cheek and they exchanged a few words. When asked by the press about his feelings following the hearing, Mr. Mack shared that he was still processing the judge's declaration of his long-overdue exoneration.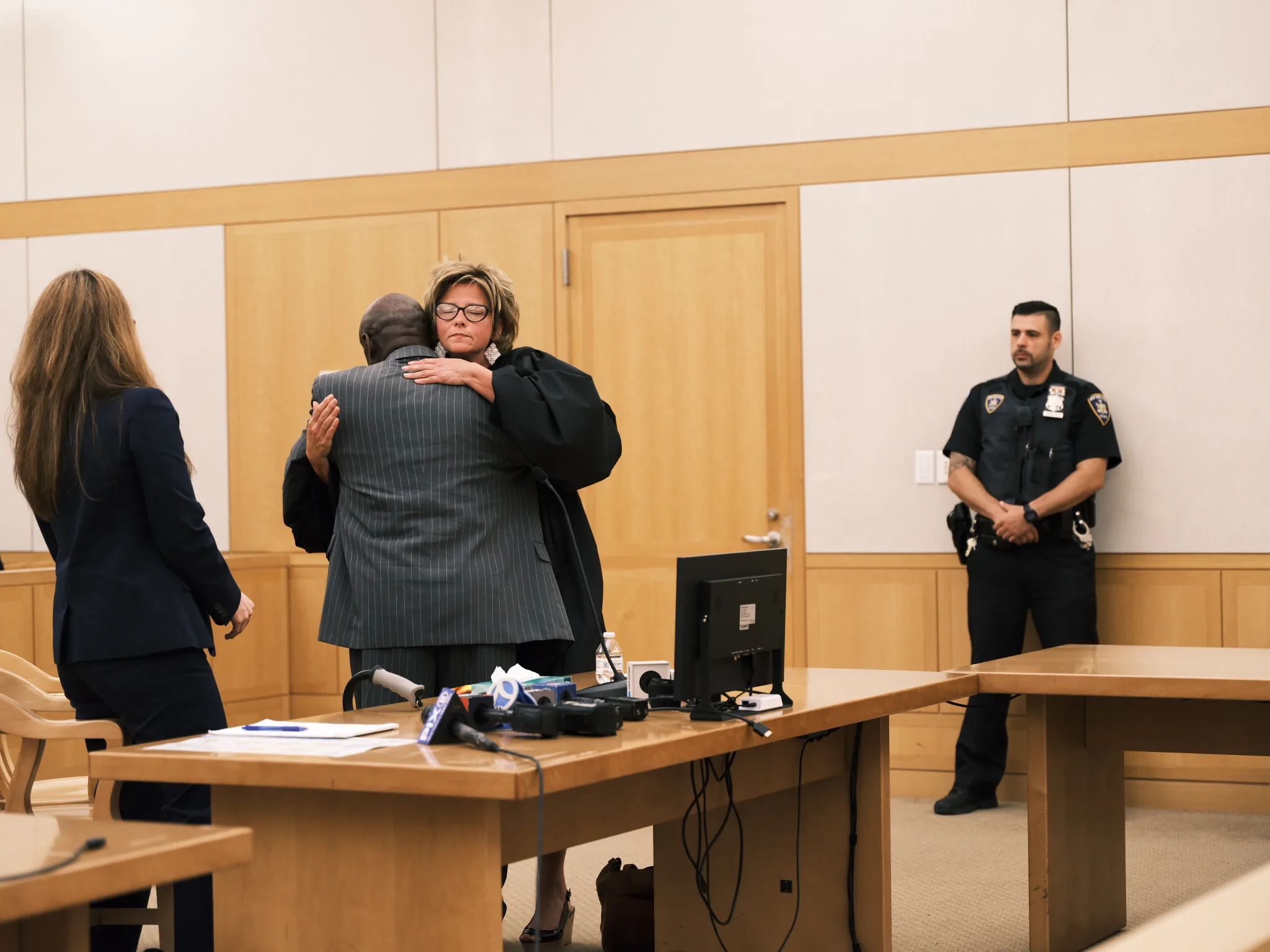 "This has been the highlight of my career."
"This has been the highlight of my career."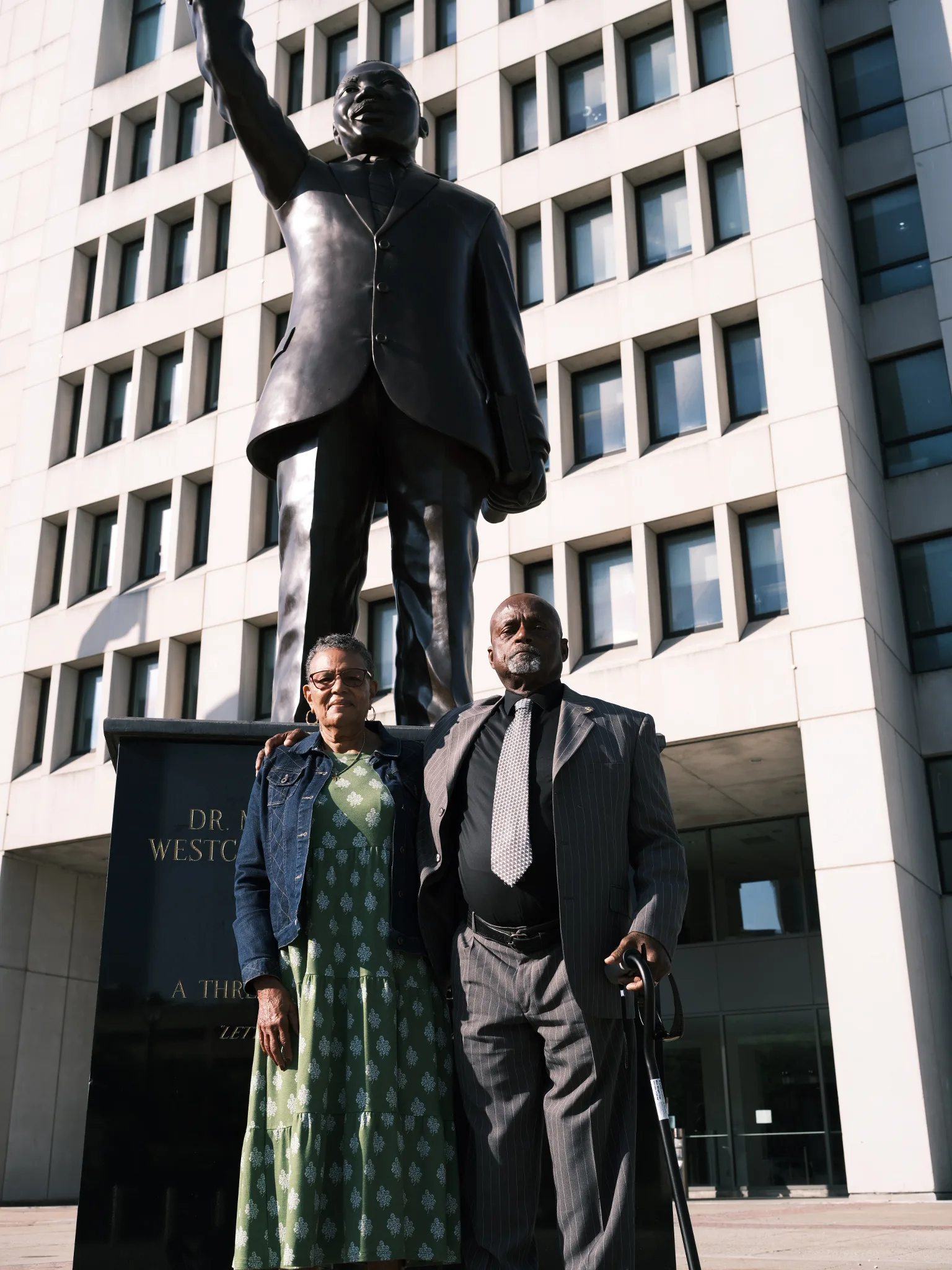 3. Mr. Mack chanted Dr. Martin Luther King Jr.'s historic phrase, "Free at last, thank God Almighty, I'm free at last," while walking out of the courthouse toward Dr. King's statue.
Mr. Mack is a devout Christian, and his voice rings with power and purpose. He danced out of the courthouse doors rejoicing his freedom and reciting the iconic Dr. King phrase in front of the towering memorial of the civil rights leader.   
4. Mr. Mack celebrated his 72nd birthday on the day of his exoneration.
"Today is my birthday; I couldn't think of a better gift," said Mr. Mack. Following the hearing, the Innocence Project team celebrated his 72nd birthday with a cake and a room filled with balloons.
5. Mr. Mack reunited with the Innocence Project case analyst who reviewed his case in 2019.
Gabriel Lopez, the senior case analyst who read Mr. Mack's letter requesting the Innocence Project's help, was able to attend the exoneration in a full circle moment.
"I read his letter in 2019," said Mr. Lopez, while standing arm and arm with Mr. Mack. "After a deep analysis and report, I presented the case to the Innocence Project's legal team and they amazingly took the case on. I am so honored to be a part of your journey, Mr. Mack."
6. Mr. Mack concluded his day with a celebratory steak dinner.
With his legal and social work team and wife by his side, Mr. Mack enjoyed one of his favorite meals: steak. 
7. Mr. Mack's TikTok video went viral. 
The Innocence Project's TikTok community amplified his story, with the video reaching over 80,000 views.
8. Over 200 donors have rallied around Mr. Mack by donating to his GoFundMe.
The funds, exceeding $12,500, will offer vital support to the Vietnam War veteran as he rebuilds his life, after enduring the horrifying experience of wrongful conviction for nearly five decades. 
With the shadows of the past behind him, Mr. Mack now stands as a beacon of hope and resilience, epitomizing the power of unwavering faith amidst adversity.
Leave a Reply
Thank you for visiting us. You can learn more about how we consider cases here. Please avoid sharing any personal information in the comments below and join us in making this a hate-speech free and safe space for everyone.