Informing injustice: The disturbing use of jailhouse informants
Unregulated jailhouse informant testimony is sending innocent people to prison—and even to death row—while costing taxpayers millions, and failing to bring justice to victims of crime.
By Innocence Staff 03.06.19
Unregulated jailhouse informant testimony deeply harms our justice system
What could be worse than going to prison for a crime you didn't commit in part because someone fabricated testimony against you? Making matters worse, those people providing that testimony receive leniency in their own cases or other benefits in exchange for their untruthful testimony. Unregulated jailhouse informant testimony sends innocent people to prison—and even to death row — while costing taxpayers millions, and failing to bring justice to victims of crime.
Jailhouse informant testimony is one of the leading contributing factors of wrongful convictions nationally, playing a role in nearly one in five of the 367 DNA-based exoneration cases.
Jailhouse informants are people in prison who are incentivized to testify against a defendant in exchange for a benefit, which can include receiving leniency in their own case.
The promise or expectation of possible benefits from prosecutors creates a strong incentive to lie, and the secretive nature of the jailhouse informant system makes cross-examination and other legal safeguards against unreliable testimony ineffective. In many wrongful convictions, defendants were not given key information related to the credibility of the jailhouse informants who testified against them including the benefits they received, previous cases in which they acted as jailhouse informants, and their criminal history.
The Innocence Project seeks to foster greater awareness around the criminal justice system's dangerous reliance on jailhouse informants and its devastating consequences.
This campaign explores accounts of people who've been directly affected by either the illegal use of jailhouse informants or fabricated jailhouse testimony. From exonerees James Kluppelberg, Ellen Reasonover, Marvin Reeves, to advocates Paul Wilson and Christy Sheppard, along with public defender Scott Sanders, see how informant testimony is sending innocent people to prison, death row, costing taxpayers millions, and failing to bring justice to victims of crime. 
And while some states are leading the way in implementing safeguards against false jailhouse witness testimony, a lot more needs to be done across the country to truly tackle this problem. That's why the Innocence Project is asking for your support to accomplish nationwide reform.
The cost of informant injustice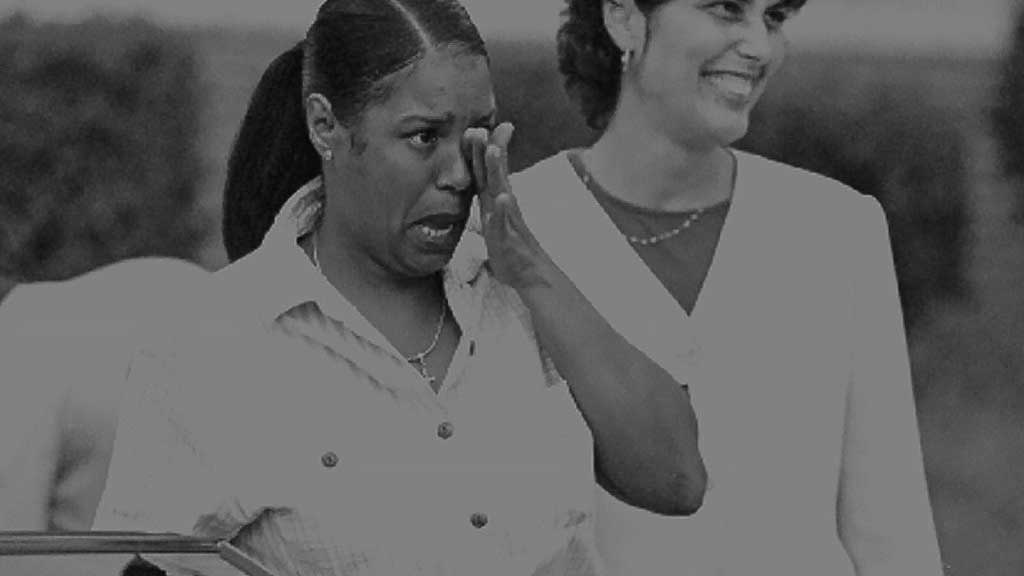 "I lost my child, my freedom, and nearly my life because of false jailhouse informant testimony."
Ellen Reasonover (left) leaves the Chillicothe Correctional Center after her release Tuesday afternoon, Aug. 3, 1999, in Chillicothe, Mo. At right is one of her attorneys. A St. Louis County judge vacated Reasonover's 1983 conviction of capital murder in the shooting of 19-year-old James Buckley in a botched robbery attempt. (Photo courtesy of Chillicothe Constitution, Laura Riedel)
Ellen Reasonover: I lost my child and my freedom
In 1983, Ellen Reasonover alerted the police about suspicious activity she had witnessed after learning about a murder at her local gas station in Dellwood, Missouri. Despite her earnest intention to help, she was arrested. 
"Instead of thanking me, the police arrested me," she said in an Omaha World Herald op-ed.
While waiting for trial, two jailhouse informants claimed that she confessed to the murder. They were offered leniency in their cases in exchange for testimony against her.
Although constitutionally obligated to disclose the deal with Reasonover's attorney, prosecutors did not do so, making it difficult for the defense to raise issues of the jailhouse informant's credibility. Reasonover was convicted of the murder and was one vote away from a death sentence. To her relief, she was sentenced to life in prison.
"I lost my child, my freedom, and nearly my life because of false jailhouse informant testimony," she said. 
In 1993, Centurion Ministries began investigating the case and found that prosecutors withheld key evidence, including a tape recording of Reasonover vehemently denying her involvement in the case, their jailhouse informant deal, and evidence that one jailhouse informant lied on the stand.
In 1999, Reasonover's conviction was vacated and she was released from prison after 16 years.
Like James Kluppelberg and Marvin Reeves, Reasonover has testified on behalf of legislation to protect against false jailhouse informant testimony in courts.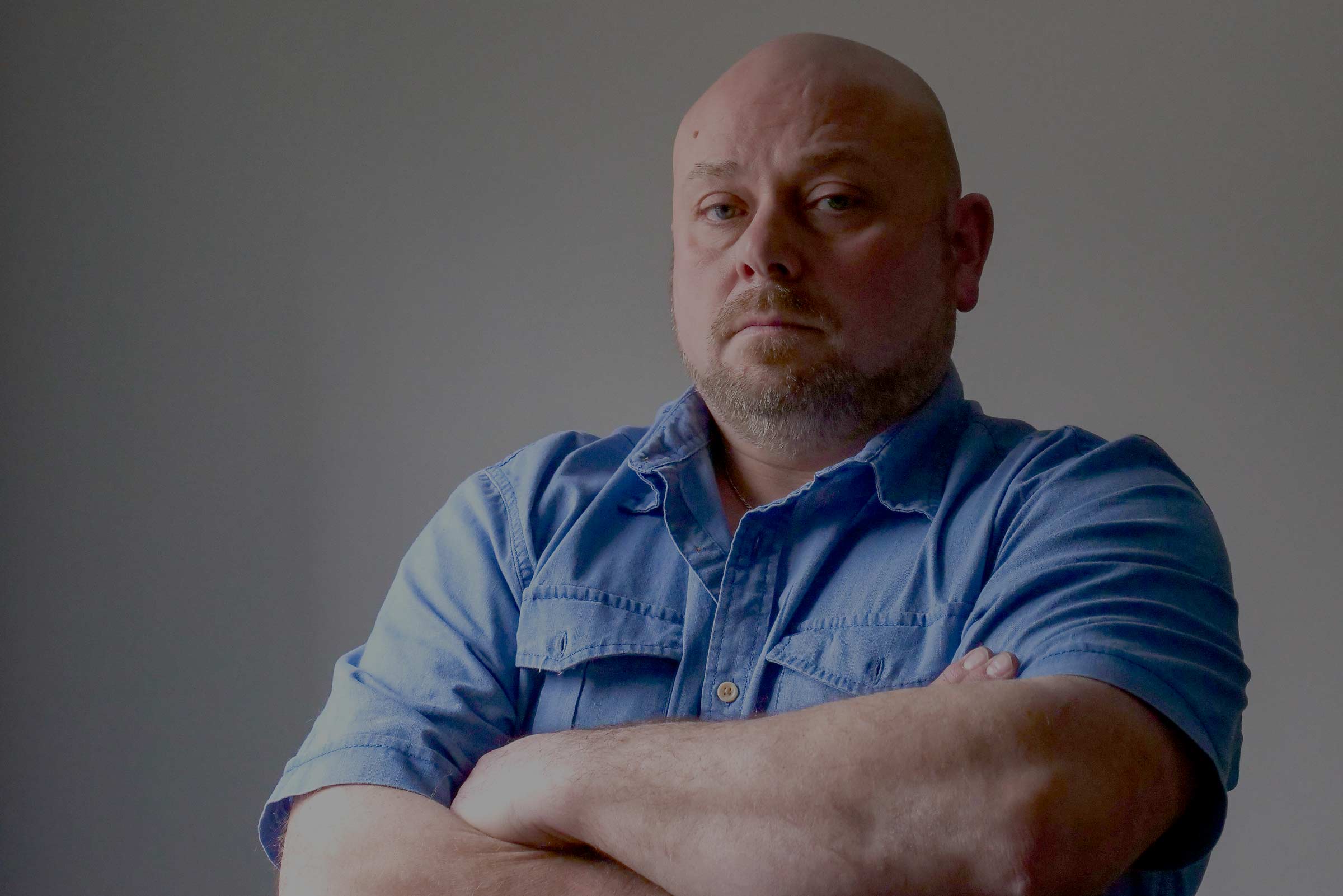 "I missed out on raising my son and by the time I was exonerated my son had a family of his own."
James Kluppelberg at his home in Indiana in March 2019. Photo by Lacy Atkins/Innocence Project.
James Kluppelberg: I missed out on raising my son
James Kluppelberg was wrongfully convicted and spent 25 years in prison for setting a fire that killed a woman and her five children on Chicago's South Side in 1984.
"I missed out on raising my son and by the time I was exonerated my son had a family of his own," Kluppelberg said.
More than three years after the fire, a man named Duane Glassco was arrested for burglary, theft and violation of probation. During questioning, Glassco said that he saw Kluppelberg going back and forth to the building where the fire broke out and alleged that Kluppelberg admitted to setting the fire. In 1989, a judge found Kluppelberg guilty largely based on Glassco's testimony.
Years later, new evidence emerged of Kluppelberg's innocence. Glassco recanted his statement, admitting that he agreed to implicate Kluppelberg in exchange for reduced prison time for a set of criminal charges he was facing. In addition, police reports were later discovered that documented an interview with a woman who said she may have started the fire, after admitting to setting another fire less than three blocks away.
Kluppelberg was finally freed in 2012, with representation from The Exoneration Project and in 2013 he filed a federal wrongful conviction lawsuit against the City of Chicago and the Chicago Police Department. In 2018, he settled for $9.3 million.
Months later, along with the Innocence Project, the Illinois Innocence Project, and exoneree Marvin Reeves, Kluppelberg was instrumental in helping to pass a groundbreaking jailhouse informant regulation law in Illinois, one of the strongest laws in the country.
"No one can give me back the years I lost behind bars for a crime I didn't commit," Kluppelberg said. 
"I was proud to advocate for this new law so that other innocent people won't have to suffer the same fate."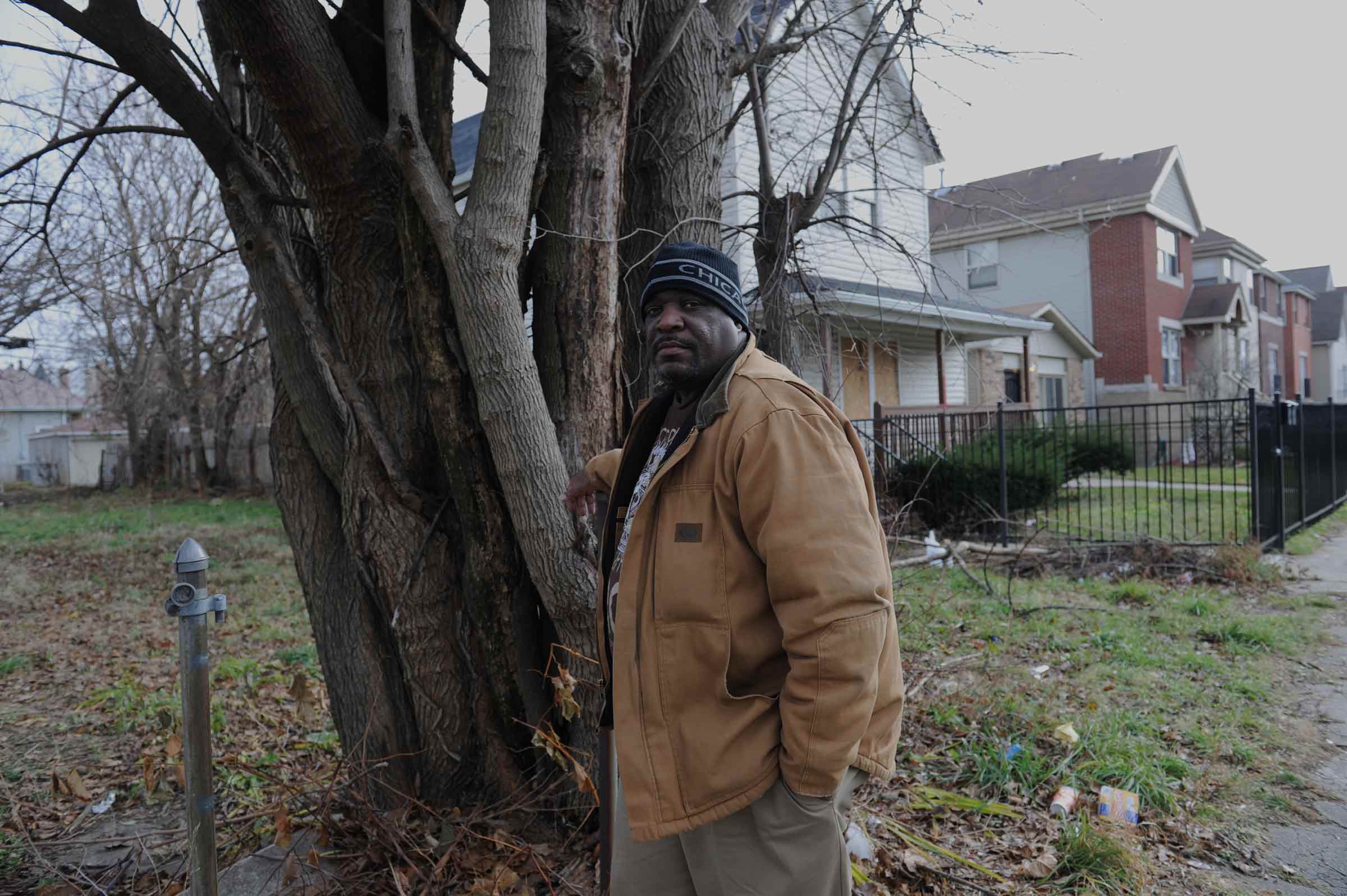 "That guy put us away for years for a crime that everyone knows we did not commit."
Marvin Reeves, 56, stands near the front of the house he bought for his daughter in the Greater Grand Crossing neighborhood in Chicago, Illinois on November 29, 2015. Photo by Amanda Rivkin.
Marvin Reeves and Ronald Kitchen: It was too easy to lie against us
Marvin Reeves spent 21 years in prison after he and his co-defendant Ronald Kitchen were wrongfully convicted in 1991 of the murder of two adults and three children who were strangled and burned in their apartment building on Chicago's South Side. The crime occurred in 1988. 
They became suspects after a jailhouse informant named Willie Williams contacted a Chicago Police officer and claimed that Kitchen had admitted to committing the crime with Reeves during a phone call Williams made to him from jail.
"It was just way too easy for the state to use the guy [Willie Williams] who lied against me and Ronnie, and then they just let him out," Reeves said.
Telephone records indicated that no such call had been made on the dates Williams claimed. Nevertheless, police arrested Kitchen, and interrogated him for 16 hours, led by, Detective Michael Kill, an underling of Commander Jon Burge, who would be fired in 1993 for engaging with Kill and others in the systematic torture of scores of black criminal suspects.
After hours of abuse and torture, Kitchen signed a confession implicating Reeves. Reeves was subsequently convicted of the murders in 1991 and sentenced to life in prison.
"That guy put us away for years for a crime that everyone knows we did not commit," Reeves continued.
As evidence mounted regarding the torture in which Burge and other members of the Chicago Police Department had engaged in, the Cook County State's Attorney's Office re-investigated the Kitchen-Reeves case and agreed to vacate their convictions and dismiss the charges.
Reeves and Kluppelberg played critical roles in convincing Illinois lawmakers that false jailhouse informant testimony demands additional scrutiny.
"This new law will prevent what happened to Ronnie and me from happening to other innocent Illinoisans," Reeves concluded.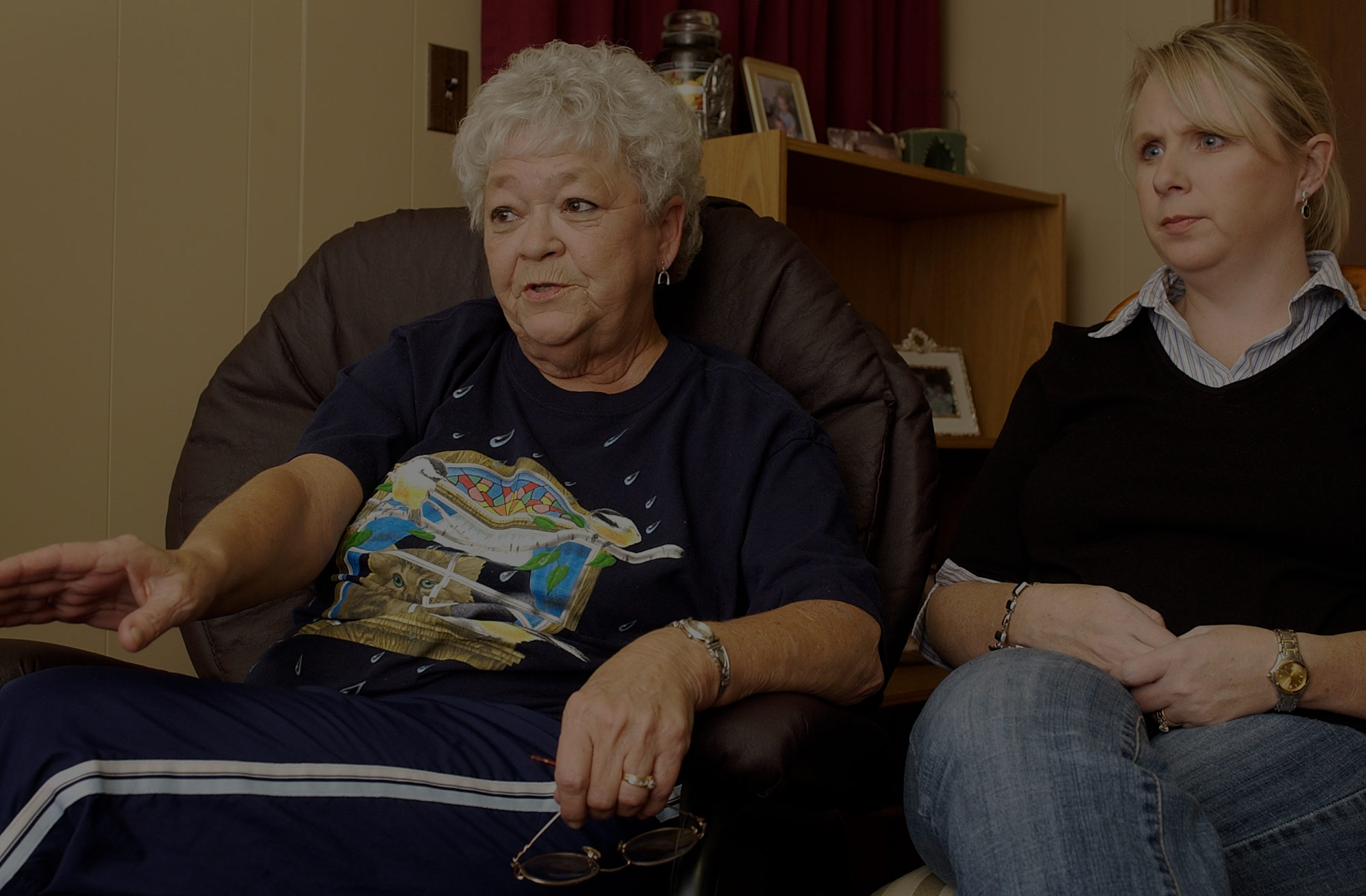 "It was too easy for jailhouse informants to lie."
Peggy Saunders (left) and Christy Sheppard (right) chat with a reporter in Ada, Okla., Friday, Sept. 22, 2006. Saunders was the mother of Debra Sue Carter, who was murdered in Ada Dec. 8, 1982. (The Ada News/Richard Barron).
Christy Sheppard: My family was victimized twice
Christy Sheppard is a victim advocate and the cousin of Debra Sue Carter, a 21-year old woman, who was raped and murdered in Ada, Oklahoma, in 1982.
Ron Williamson and Dennis Fritz were wrongfully convicted of the crime—partially based on jailhouse informant testimony.
Seventeen years later, DNA proved their innocence and resulted in the conviction of a man named Glenn Gore. This case inspired John Grisham's best-selling book "An Innocent Man" which has now been adapted into a Netflix series.
"Our world was turned upside down when we learned that two innocent men were behind bars—and Ron Williamson had nearly been executed—while Glenn Gore went on to commit other violent crimes," Sheppard said.
Sheppard has long advocated for innocence reforms and continues to use her voice and platform to advocate for the regulation of jailhouse informants. 
Netflix adapts John Grisham's book The Innocent Man: Watch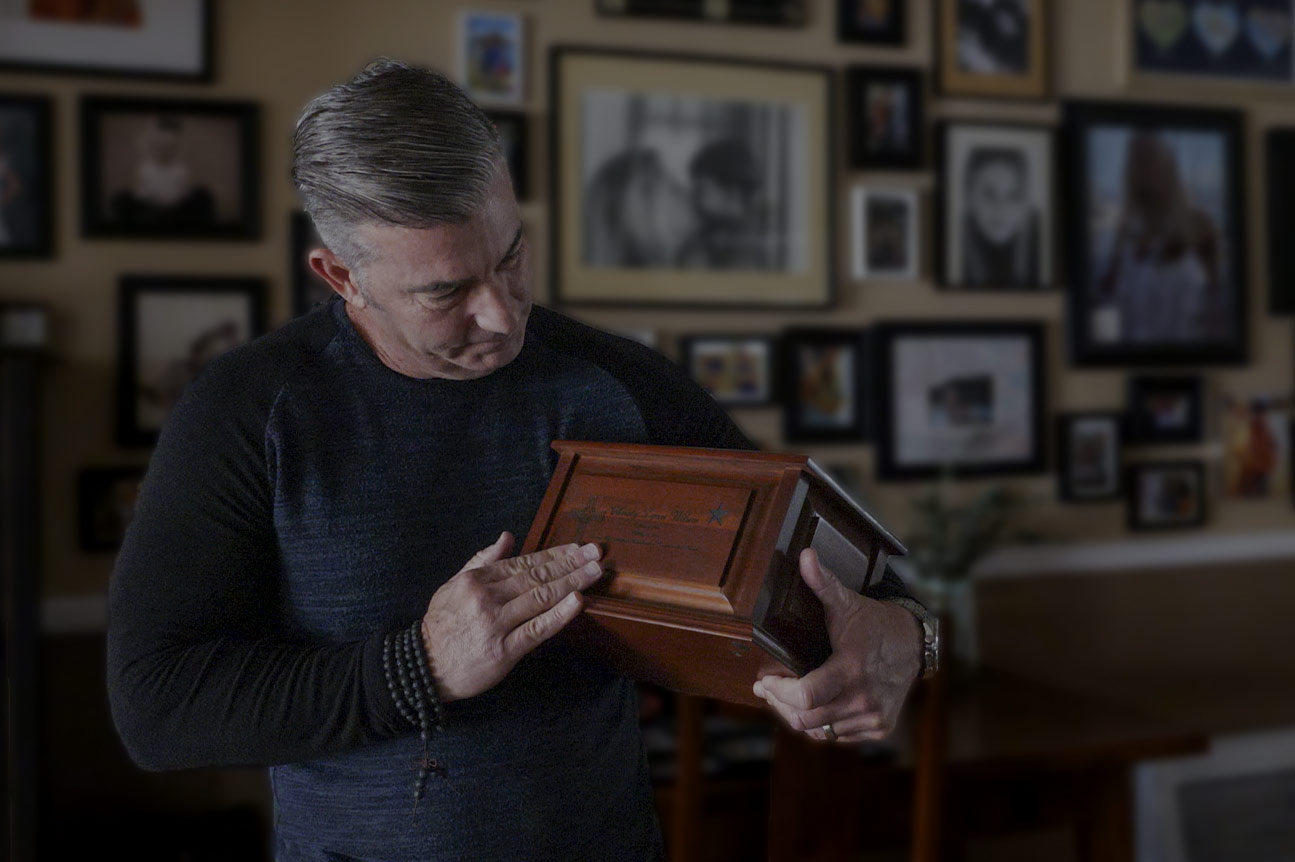 "I lost years of my life watching people hide the truth and cheat with informants. "
Paul Wilson in his home in California  in 2019. Photo by Lacy Atkins/ Innocence Project.
Paul Wilson: The system must change
In 2011, Paul Wilson lost his wife Christy—the mother of his three adult children—who was among eight people killed in a Seal Beach salon in Orange County California.
"The loss of my beloved wife was the most painful experience of my life," Wilson told the Innocence Project.
Orange County Assistant Public Defender Scott Sanders represented Christy's killer, Scott Dekraai, who was facing the death penalty. Dekraai was convicted, and during the penalty phase the prosecution introduced testimony of a jailhouse informant who claimed that Dekraai confessed to him while they were both in jail. Sanders realized that that the same jailhouse informant had been used in another case he was assigned to.
The judge ordered the prosecutor to turn over their records on the informant, which revealed there was an illegal program in the Orange County jail where law enforcement placed informants next to certain defendants to elicit confessions. Wilson and the other victims and their families were put through years of additional court proceedings because law enforcement misused and withheld evidence about the jailhouse informants in the case. 
"I never expected to be victimized a second time by the justice system," Wilson continued.
"I lost years of my life watching people hide the truth and cheat with informants. There were no rules and no accountability. The system has to be changed for the sake of other victims and families."
Since the case, Wilson and Sanders have become unlikely allies with a mission to reform a system that enables critical evidence related to the informant to be withheld. There have been 18 cases in the county where felony defendants, including several convicted of murder, have received new trials or reduced sentences as a result of the prosecution withholding evidence related to jailhouse informants. Additionally, Sanders has argued that there are more than 140 cases in the county where evidence has been withheld related to the role of members of law enforcement in misusing informants and withholding informant evidence.
Watch Paul Wilson share his story:
Reforms that enable justice
The following measures offer safeguards against false jailhouse informant testimony resulting in a wrongful conviction:
Prompt and complete disclosure of jailhouse witness evidence.
Tracking the use of jailhouse witness testimony. 
Requiring judges to hold pre-trial reliability hearings to assess whether a jailhouse witness's testimony is admissible.
Providing instructions that jurors should consider benefits offered to jailhouse witnesses and other reliability factors when assessing their statements. 
The following states already regulate the use of jailhouse witness evidence — follow the links to learn more:
Reform Efforts for 2021
Click on a state below for information about the Innocence Project's 2021 jailhouse informant policy reform efforts, and to find out how you can get involved:
Minnesota
Nevada 
Najee Seabrooks' death prompted New Jersey's attorney general to take over the Paterson police department, but further action is needed to tackle police misconduct.
Campaign
03.31.23
(March 31, 2023 — New York, NY) The Innocence Project announced today that Peter L. Markowitz, professor and Associate Dean of Equity ...
News
03.31.23
The team helps with everything from housing and health care to mental health and emotional support.
News
03.29.23