Levon Brooks
Time Served: 16 years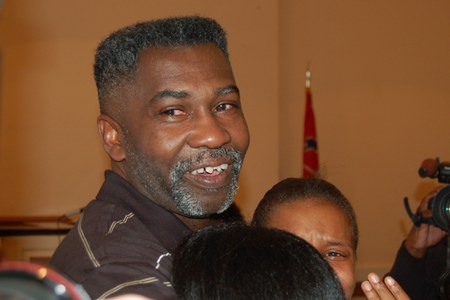 Levon Brooks served 16 years in Mississippi prisons for a 1990 rape and murder of a three-year-old girl he didn't commit. In 2008, DNA testing cleared another man, Kennedy Brewer, who had been sentenced to death for a nearly identical murder that happened in the same town less than two years after the crime for which Brooks was convicted. The DNA results implicated the perpetrator of that crime, and he confessed to committing both murders, clearing Brooks.
The exonerations of the two men, both Innocence Project clients, revealed troubling problems with autopsies and forensic oversight in Mississippi, and the underlined the shortcomings of bite mark comparison evidence.
The Crime 
Late at night on September 15, 1990, three-year-old Courtney Smith was abducted from her Brooksville, Mississippi, home. The girl shared a bedroom with her two sisters, ages six and one. Her 26-year-old uncle was asleep in the next room when she disappeared.
Her body was found two days later in a pond 80 yards from her house. She had been sexually assaulted and murdered.
The Investigation 
Levon Brooks became a suspect because he was an ex-boyfriend of Smith's mother.
Another man, Justin Albert Johnson, was also briefly a suspect in the case. His ex-wife and son lived next to the Smith residence and he had been inside the Smith house on the day of the abduction.
Dr. Steven Hayne, a Mississippi pathologist, performed an autopsy on the victim shortly after her body was found. He determined that she had been sexually assaulted. He also found possible bite marks on her wrist and referred the case to Dr. Michael West, a forensic dentist in Mississippi who had worked with Hayne on other cases in the past.
West determined that the marks on the victim's body were indeed from human bites, and he took dental impression samples from 12 possible suspects — including Justin Albert Johnson but not including Levon Brooks.
Ten days after the victim was killed, police interviews the victim's six-year-old sister. The girl's sister said she had seen the perpetrator abduct the victim and identified the perpetrator as Levon Brooks, her mother's ex- boyfriend. Based on the girl's identification, Brooks was arrested.
On the same day, September 25, West took a sample of Brooks' teeth at the local jail. West testified at Brooks' trial that he compared Brooks' sample to the marks on the victim's body and found that two of Brooks' teeth "matched" the marks on the victim's body. He said Brooks made the marks with his two top front teeth. Brooks was charged with capital murder.
The Trial 
Brooks was tried before a jury in Noxubee County, Mississippi, in January 1992. The victim's sister testified that she saw Brooks abduct her sister, although her testimony had several contradictions. In addition to the child's unreliable testimony, the state's case rested on the bite mark evidence presented by Dr. West, who testified that "it could be no one but Levon Brooks that bit this girl's arm."
Brooks' defense attorneys presented an alibi defense, that he was working a club on the night of the murder and did not have an opportunity to commit the crime. The defense also challenged West's credentials and findings. After deliberating for about nine hours, the jury convicted Brooks of capital murder. He was sentenced to life in prison.
Post-Conviction Appeals and Exoneration 
Just four months after Brooks was convicted, another young girl was abducted, raped and killed in Brooksville. The facts were startlingly similar, a three-year-old girl taken from her home at night and found in a creek. But the similarities between the cases did not end there. Police focused on Kennedy Brewer, the boyfriend of the victim's mother. Dr. Steven Hayne conducted the autopsy and said he found bite marks on the victim's body. West was called to analyze the bite marks. He confirmed that the marks were from a human bite, and determined that they came from Brewer. Based on this evidence, Brewer was convicted in 1995 and sentenced to death.
The Innocence Project became involved in Brewer's case in 2001, consulting with Brewer's attorneys on DNA testing issues. DNA test results showed that semen from the victim's body excluded Brewer as the perpetrator of the crime and his conviction was overturned. He remained behind bars for six more years, however, awaiting a new trial. Another round of testing matched the profile of Justin Albert Johnson, who had been a suspect during the initial investigations of both Brewer's and Brooks' cases. Johnson was interviewed by law enforcement officials and he admitted to committing both murders, but adamantly denied biting either victim. Following his confession, Brewer and Brooks were both freed on February 15, 2008. Brooks was officially cleared on March 13.
Forensic Fallout 
In the wake of the exonerations of Brewer and Brooks, the Innocence Project and several other organizations and individuals began to call for investigations into the work of Hayne and West. For years, Hayne claimed to conduct 1,200 to 1,800 autopsies a year across the state of Mississippi (six times the professional standard), earning him more than a million dollars a year.
Hayne had served as Mississippi's chief medical examiner in the late 1980s and early 1990s, but couldn't fill the position permanently because the state required the official to be properly board-certified, which he is not. The position has been vacant for more than 15 years, however, and Hayne was essentially filling the role on a de facto basis. In August of 2008, just months after the Brewer and Brooks exonerations, the state announced that it was severing all ties with Hayne.
Death
In January 2018, Brooks passed away from cancer at the age of 58. Learn more.
Featured in the Netflix series "The Innocence Files"
Brooks and Brewer are two of eight people whose story is in the Innocence Project-inspired Netflix docuseries "The Innocence Files" now available for streaming.
State: Mississippi
Charge: Capital Murder, Sexual Battery
Conviction: Capital Murder, Sexual Battery
Sentence: Life
Incident Date: 09/15/90
Conviction Date: 01/20/92
Exoneration Date: 03/13/08
Served: 16 years
Race of Defendant: African American
Status: Exonerated by Other Means
Contributing Causes of Conviction: Government Misconduct, Unvalidated or Improper Forensic Science
Type of Crime: Homicide Related, Sex Crimes
Death Penalty Case: no
Accused Plead Guilty: No
The Alternative Perpetrator Identified: No
Share this case
Help us advocate for the innocent by sharing cases from the Innocence Project.