Kirk Bloodsworth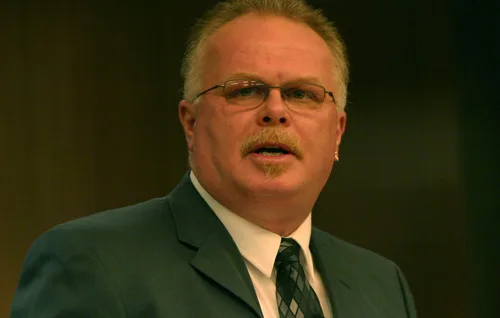 Kirk Bloodsworth, a former Marine who had become a waterman on the Eastern Shore of Maryland, was the first person to be sentenced to death and then subsequently exonerated. He was 22-years-old at the time of his wrongful conviction and served nine years in prison before he was released.
In 1984, a nine-year-old girl was found dead in a wooded area, having been sexually assaulted, strangled, and beaten with a rock.
Investigation and Trial
Bloodsworth was arrested based on an anonymous call telling police that he was seen with the victim that day and an identification made by a witness from a police sketch shown on television. The description of the perpetrator was a 6 feet, 5 inches tall white man with curly blond hair, a bushy mustache, skinny, and tan. Bloodsworth was six feet, had red hair, and was well over 200 pounds.
At trial, five witnesses testified that they had seen Bloodsworth with the victim. However, two of these witnesses had not been able to identify Bloodsworth during a lineup, but had seen him after the crime was committed on television. Testimony that Bloodsworth had said that he had done something terrible that day that would affect his relationship with his wife was presented at trial. Additionally, Bloodsworth mentioned a bloody rock during conversations with police.
Though there was no physical evidence connecting him to the crime, Bloodsworth was convicted of rape and murder and was sentenced to death row.
Post-conviction Investigation
The evidence about the rock and the conversation about his wife were challenged in Bloodsworth's appeals, stating that the bloody rock was mentioned because the police showed him a rock during the interrogation, and the incident regarding his wife amounted to his failure to buy the food she had requested.
Moreover, the police failed to inform the defense that there may have been another suspect. Bloodsworth's conviction was overturned by the appellate court two years after his original conviction and he was retried – this time, he was sentenced to two life terms instead of death row.
In the early 1990s, Bloodsworth learned about DNA testing and the opportunities it could provide to prove his innocence. The prosecution finally agreed to DNA testing for Bloodsworth's case in 1992. The victim's shorts and underwear, a stick found at the scene, and an autopsy slide were compared against DNA from the victim and Bloodsworth. The DNA lab determined that testing on the panties excluded Bloodsworth and replicate testing performed by the FBI yielded the same results.
Bloodsworth was released from prison in June 1993 and pardoned in December 1993. He had spent almost nine years in prison, two of those years facing execution.
Life After Exoneration
"If it could happen to me, it could happen to anybody," Bloodsworth has said many times. Shortly after his exoneration, Bloodsworth began avidly fighting for others who had been wrongly convicted. He first was an active volunteer speaker at events and is now a professional advocate.
He published Bloodsworth, a book about his wrongful conviction experience, in 2004. A couple of years ago, he began working as the Advocacy Director for Witness to Innocence, a Philadelphia-based coalition of death row exonerees who work to end capital punishment. He was instrumental in Maryland's abolishment of the death penalty.
The introduction of the Innocence Protection Act of 2003 established the Kirk Bloodsworth Post-conviction DNA Testing Program, which will provide funding for testing. Learn more here about the IPA and read Bloodsworth's remarks on the bill.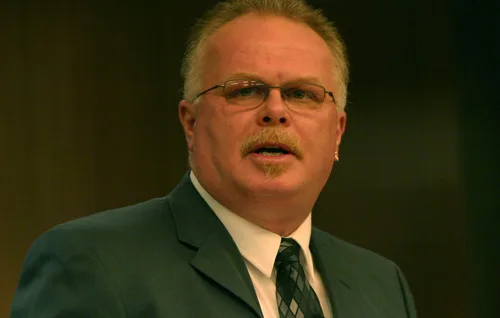 Charge: Murder, Sexual Assault, Rape
Conviction: First-degree Murder, Sexual Assault, Rape
Incident Date: 06/25/1984
Conviction Date: 03/08/1985
Exoneration Date: 06/28/1993
Accused Pleaded Guilty: No
Contributing Causes of Conviction: Eyewitness Misidentification, Government Misconduct
Race of Defendant: Caucasian
Race of Victim: Caucasian
Status: Exonerated by DNA
Alternative Perpetrator Identified: Yes
Type of Crime: Homicide-related, Sex Crimes