Frank Sterling
Time Served: 18 years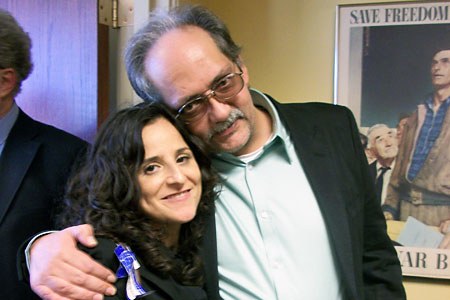 Frank Sterling served more than 17 years in New York prisons before DNA testing obtained by the Innocence Project led to his exoneration in 2010. He was convicted based almost exclusively on a false confession he gave after hours of police interrogation, and he was finally cleared when DNA tests implicated another man in the killing.
The Crime
At about noon on November 29, 1988, a 74-year-old woman was taking her daily walk along an abandoned railroad bed in Rochester, NY, when she was shot twice in the head with a BB gun, struck with a railroad tie and beaten to death. The police investigation would later show that the assailant dragged her from the path to overgrowth alongside the tracks. Her body was found by duck hunters later that afternoon, stripped naked from the waist down with her ski jacket pulled up to expose her breasts.
The Investigation and False Confession
Police quickly focused on anyone with some connection to the victim. An early suspect was Frank Sterling, whose older brother, Glenn, was in prison for the attempted sexual assault of the victim three years earlier. Sterling was 25 years old at the time and had no criminal record or history of violent behavior. He voluntarily submitted to multiple interviews with police, denying any involvement in the murder, while clearly documenting his whereabouts on the day in question. Sterling's alibi was airtight – numerous co-workers testified that he was at work as a bus aide at the time of the murder
The investigation stalled for more than two and a half years without any charges being filed. Then, in 1991, the Monroe County Sheriff's Office formed a new investigative team in an effort to solve the cold case.
Investigators approached Sterling as he returned from a 36-hour trucking job. He agreed to an interview at the police station, which began in the afternoon and continued overnight into the following morning. Sterling maintained his innocence, while saying he had trouble remembering. The interrogation included several highly suggestive methods – including hypnosis and the suggestion of details. At one point, the officers showed crime scene photos to Sterling to "help him remember." Interrogation standards followed by hundreds of law enforcement throughout the country admonish against such techniques.
The officers had Sterling lay on the floor with his feet up on a chair and his eyes closed. As they rubbed his back, the interrogators insisted that Sterling had committed the murder, showed him pictures of the crime scene and the victim's body and shared key details with him. One of the officers told Sterling that he would feel better if he let out his anger towards the victim, telling him that the victim "deserved what she got," and insisted that "we're here for you, we still care for you."
Finally, after more than eight hours at the police station, Sterling tightened up, began to shake, and blurted out "I did it, I need help." At this point, the officers demanded a videotaped confession and an exhausted Sterling complied. His confession included numerous inconsistencies, including the incorrect location of the crime scene on a map. Sterling also could not describe what he had supposedly done with the BB gun, and where or how many times had shot the victim. Despite his immediate recantation of the confession, he was charged with murder.
The Trial
The evidence against Sterling at trial consisted almost solely of the false confession, which the judge admitted as evidence over the objection of Sterling's attorneys. The jury deliberated for two days and sought multiple instructions from the judge regarding the confession. Finally, on September 29, 1992, the jury convicted Frank Sterling of murder in the second degree.
Before his sentencing, Sterling and his attorneys learned about Mark Christie, a young man from Rochester – and an early suspect in the murder – who was not investigated further after he gave police a false alibi that they took at face value. Friends told Sterling's attorneys that he had bragged about the murder. In response, his attorneys moved for an order setting aside the verdict in light of this newly discovered evidence, but the judge did not believe Christie's numerous admissions to friends to be credible and sentenced Sterling to 25 years in prison.
Post-Conviction
In 1996, Christie pled guilty to the 1994 killing of a 4-year-old girl. After his conviction, Sterling's attorneys learned more information about Christie's possible connection to the murder for which Sterling had been convicted. Sterling's attorneys again sought to overturn the verdict based on this new evidence, but were denied a second time due to the perceived unreliability of the admissions.
Sterling sought DNA testing in 2004, and a single hair strand was tested. Unfortunately, it proved to be consistent with the victim. In 2006, at the urging of the Innocence Project, prosecutors agreed to test numerous pieces of crime scene evidence at Orchid Cellmark Laboratories. Testing for Touch DNA, which can detect sweat and skin cells left by a perpetrator, was performed on numerous pieces of the victim's clothing. Results on two key areas of the clothing where the perpetrator would have grabbed the victim while beating her and dragging her body conclusively excluded Sterling and implicated Christie.
The DNA evidence of Sterling's innocence was corroborated in January 2010 when Christie gave a detailed confession to an attorney from the Innocence Project and an instructor for John E. Reid and Associates, the world's largest trainer of interview and interrogation techniques to law enforcement agencies, which he repeated in April to the Monroe County District Attorney's Office.
On April 28, 2010, Frank Sterling, now 46-years-old, was officially exonerated. He had spent nearly 18 years in prison for a murder that he didn't commit.
Pro bono assistance was provided to the Innocence Project in Sterling's case by the Weil, Gotshal & Manges law firm and Kroll, one of the world's leading investigative firms.
State: New York
Charge: 2nd Degree Murder
Conviction: 2nd Degree Murder
Sentence: 25 Years to Life
Incident Date: 11/29/88
Conviction Date: 01/01/92
Exoneration Date: 04/28/10
Served: 18 years
Race of Defendant: Caucasian
Race of Victim: Caucasian
Status: Exonerated by DNA
Contributing Causes of Conviction: False Confessions or Admissions
Type of Crime: Homicide Related
Death Penalty Case: no
Accused Plead Guilty: No
The Alternative Perpetrator Identified: Yes
Share this case
Help us advocate for the innocent by sharing cases from the Innocence Project.