Damon Thibodeaux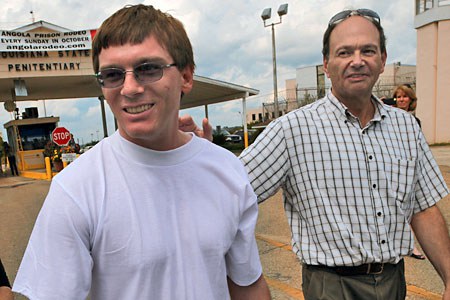 Damon Thibodeaux was 22 years old and had a job as a deckhand in July 1996. That same month, his step-cousin was strangled to death. Thibodeaux was wrongfully convicted of the murder of his cousin and spent 15 years on death row, in solitary confinement, before his exoneration through DNA testing on September 28, 2012.
Crystal Champagne left her family's Westwego, Louisiana, apartment in July 1996 to go to the nearby mall, and when she did not return home as expected, her family began a search for her. The search ended the following evening when her body was discovered along the levee in Bridge City. A piece of red extension cord was wrapped around her neck. In addition, her shirt was pulled above her breasts and her shorts were pulled down, suggesting a possible sexual assault.
Investigation and Trial
Thibodeaux first became a suspect because of his familial relationship with Champagne. He initially denied any involvement in the crime and agreed to take a polygraph. He was informed that he had failed the polygraph.
After many hours of interrogation, he gave a recorded statement confessing to consensual and non-consensual sex with the victim and then to beating and murdering her. Only 54 minutes were recorded out of the entire nine-hour interrogation. Thibodeaux's confession was inconsistent with the crime in numerous ways; for example, he stated that he used a white or gray speaker wire from his car to strangle Champagne, though it was a red cord.
Although forensic examiners could find no evidence of semen in the victim's body, a detective theorized that a sexual assault still could have occurred and that post-mortem maggot activity had consumed and degraded the evidence. Additionally, two eyewitnesses testified that they saw someone pacing near where the body was found. They both selected Thibodeaux from a photo array and identified him in court.
Despite any physical evidence linking Thibodeaux to the murder, he was convicted and sentenced to death row in Louisiana.
Post-conviction Investigation
In 2007, based on evidence of Thibodeaux's innocence, the Jefferson Parish District Attorney's Office initiated a joint reinvestigation with the Innocence Project and the rest of Thibodeaux's legal team. Several forensic experts concluded that there was no physical evidence connecting Thibodeaux to the murder and that, contrary to Thibodeaux's statement, the victim had not been sexually assaulted. DNA on the cord in the tree, which had tested positive for blood in the original investigation, revealed male DNA that did not belong to Thibodeaux.
The eyewitnesses who identified Thibodeaux as the man they had seen pacing near the crime scene stated that they had, in fact, already seen Thibodeaux's photo in the news media before taking part in the identification procedure. Moreover, they stated that the sighting had in fact occurred the day after the body was found, when Thibodeaux was already in custody.
The reinvestigation further confirmed that Thibodeaux's confession was false in every significant aspect. The prosecution's own expert had concluded prior to the original trial that Thibodeaux falsely confessed based on fear of the death penalty, but this information was never shared with the defense.
District Attorney Paul Connick, Jr. joined the Innocence Project, the Capital Post-Conviction Project of Louisiana, and the law firm of Fredrikson & Byron in agreeing to overturn Thibodeaux's conviction and death sentence. He was released in September 2012 after 15 years on death row and a total of 16 years of wrongful incarceration. He was the 300th person exonerated through DNA testing.
Life After Exoneration
Following his release, Thibodeaux moved to Minnesota and began working at Fredrikson & Byron, the law firm that helped to exonerate him. Thibodeaux also earned his high school diploma.
Thibodeaux is an active speaker for wrongful conviction reform, and he has told his story at Innocence Project events and other organizations' events around the country.
As Thibodeaux said in an interview with KARE NBC Minnesota, "The best part of my day, no matter how good the rest of my day is, is when I wake up every morning and I don't see those bars."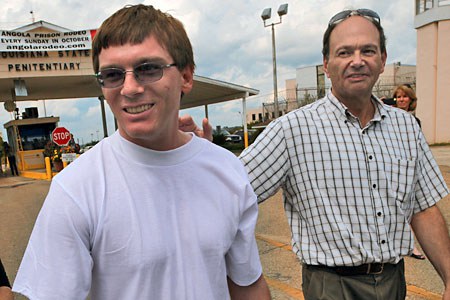 Charge: Murder, Aggravated Rape
Conviction: Murder, Aggravated Rape
Incident Date: 07/20/1996
Conviction Date: 10/03/1997
Exoneration Date: 09/28/2012
Accused Pleaded Guilty: No
Contributing Causes of Conviction: Eyewitness Misidentification, False Confessions or Admissions
Race of Defendant: Caucasian
Race of Victim: Caucasian
Status: Exonerated by DNA
Alternative Perpetrator Identified: No
Type of Crime: Homicide-related, Sex Crimes