Basketball Was His Escape During His Wrongful Conviction. Now, Norberto Peets Is Free At Last.
Before he was exonerated in May, Norberto Peets was wrongly incarcerated for 26 years for a Bronx shooting he did not commit.
08.18.23 By Daniele Selby
When Norberto Peets walked into the fresh air on Sept. 30, 2022, he felt relief, but also fear.
His conviction for a 1996 shooting involving the NYPD in the Bronx had just been overturned, paving the way for his release, but his fate was uncertain. The possibility of a re-trial and being sent back to prison — a place he never should have been in the first place — still loomed over him.
Mr. Peets was 26 years old when he was wrongly arrested for a 1996 shooting in the Bronx in which the shooter had been struck by a bullet during a gunfire exchange with police. Though Mr. Peets did not have a gunshot wound anywhere on his body and had a strong alibi, he was convicted and sentenced to 30 years to life in prison.
By the time he was released in 2022, Mr. Peets had lost half his life to wrongful incarceration and missed out on seeing his children, Carlos and Johanil, who were 5 and 2 respectively at the time of his arrest, grow up. Upon his release, he moved back home with his mother in the Bronx and reunited with friends and his remaining family — though many of his family members had passed away during his long incarceration.
In those first few weeks, Mr. Peets walked around his old neighborhood, where his mother still lives, relishing the fact that there was no nightly "count" or guards in uniforms at every turn. Yet he couldn't shake the feeling that one wrong move or even just being in the wrong place at the wrong time could send him back to prison.
Oddly, the one place Mr. Peets felt normal — almost free — in the outside world was the same place he had felt free while in prison: the basketball court.
"In Sing Sing Prison, I played basketball all day, and it helped me stay in good shape, but, in that moment when I was playing basketball, it took a lot of stress away from me," Mr. Peets explained. "That was the only time I felt like I was a little free and not so in my mind about all the stuff I was dealing with."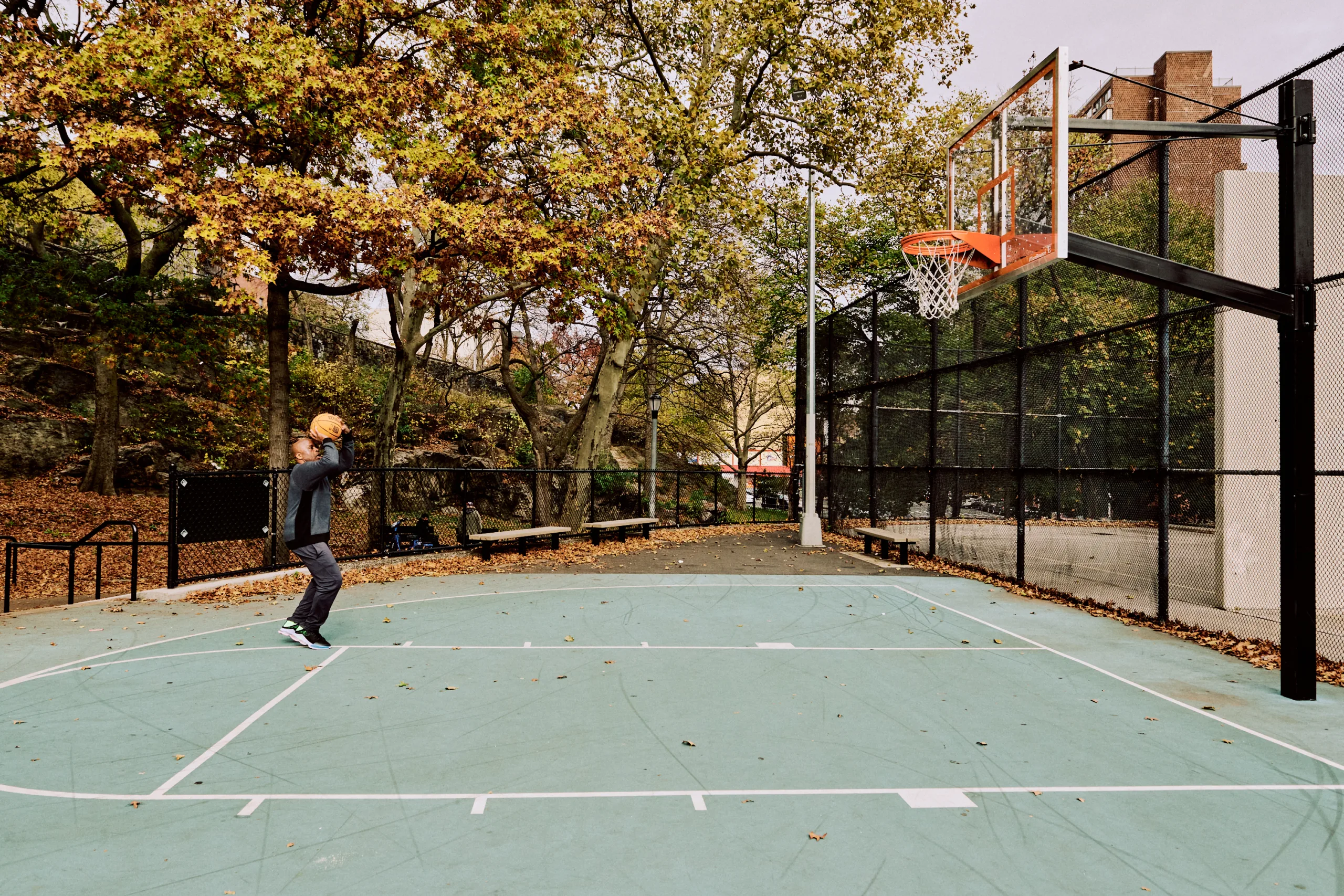 "[In] that moment when I was playing basketball, it took a lot of stress away from me."
"[In] that moment when I was playing basketball, it took a lot of stress away from me."
Mr. Peets said some of his earliest memories are learning to play basketball with his father on the court near his father's home in the Dominican Republic, where Mr. Peets grew up. Later, he passed on the lesson to his younger brother Kendall Beltre, coaching him in both basketball and baseball. Shortly after Mr. Peets' release, he and Mr. Beltre reunited on the court.
"I felt the joy," said Mr. Beltre. "I felt like I went back to when I was 14 years old [before Mr. Peets was arrested]. I went back to a feeling of being so happy, like I was a big kid, you know? Like wow my big brother's out here, I almost couldn't believe it."
Mr. Beltre had dreams of playing Major League Baseball as a teen and was on track for a professional career, but the devastation and pain of Mr. Peets' wrongful incarceration weighed on him. Without his brother, whom he described as his "biggest supporter," he lost the motivation and passion to keep up his dream. But Mr. Beltre never lost hope that his brother would one day be proven innocent and be freed.
Finally Exonerated
That day finally came on May 9, 2023, when Mr. Peets' case was dismissed and sealed in Bronx County Supreme Court, officially exonerating him. Mr. Peets' daughter Johanil was there to celebrate the occasion.
"I cannot get that time back, I'll never be 26 again, I never got to make those memories with my kids," Mr. Peets said. "But I always had hope because I knew I was innocent, that I was not there that night. So I always knew I was going home in my heart."
Immediately after his exoneration, Mr. Peets shared sandwiches with his daughter and legal team, in the nearby Joyce Kilmer Park, which overlooks the Bronx courthouse where Mr. Peets' was arraigned. And though he was overjoyed, it wasn't until days later that "it hit me really good," he said.
"A couple days after my case was dismissed, I was walking and suddenly felt like the trees looked different and the sun looked different. I had this feeling like, 'Wow, why does everything look different today?'" he recalled. "And it was because I didn't have this fear in my head anymore."
Now Mr. Peets is ready for his next chapter: a new home, the first he'll be living in without a family member or a partner. After 26 years of wrongful incarceration, he said he can't wait to have a space to call his own.
"I feel so relaxed, like a totally new person and I can do whatever I want to," he told the Innocence Project on his way to have paella with his daughter in Manhattan. Mr. Peets waited almost 27 years to enjoy this simple pleasure — the pleasure of being free to go where he wants when he wants.
 "I'm still feeling excited every day, I'm at the gym, I'm dancing, I'm a happy guy. I'm finally feeling like I'm myself again, little by little," he said.
Leave a Reply
Thank you for visiting us. You can learn more about how we consider cases here. Please avoid sharing any personal information in the comments below and join us in making this a hate-speech free and safe space for everyone.